Lanzarote Playa Blanca 28,51.50N 13,49.00W

Saro's Gyda
Derrick Thorrington
Tue 16 Nov 2010 11:43
We had a great sail down the east coast of Lanzarote, a good wind and a flat sea. We eventually rounded the south-easternmost point, Punta de Papagayo, and headed towards Marina Rubicon on the south coast.
The views during the passage were spectacular, a mass of extinct volcanoes rising out of the island with little white settlements set starkly against the black land.
Marina Rubicon is situated in the tourist area of Playa Blanca. The whole town seemed to be there for English and German tourists, with all the trappings deemed necessary to have a good time. However there were some excellent swimming beaches, wifi connections and supermarkets!
We were keen to see something of the inside of the island, particularly the National Park of Timanfaya with it's volcanic scenery so we bit the bullet and booked ourselves on a "Grand Tour" coach trip. This was to take a whole day.
We had a fantastic day. The Timanfaya was amazing and can only be described with pictures! There was a (very touristy but fascinating) demonstration at the top of one of the volcanoes, a hole in the ground where twigs caught fire, water poured in shot out as steam and meat was cooking on the rocks! We learned that the temperature 10metres below the surface is 600'C!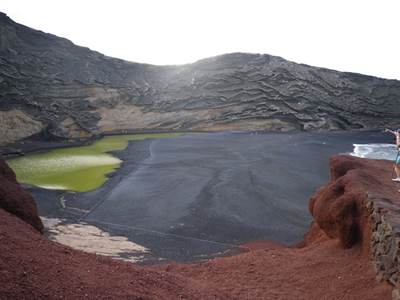 Black beach Volcanic Pool
We visited various places including vineyards where the vines are planted in little semicircles of rocks in the black earth. As it doesn't rain here the volcanic gravel holds the dew which gradually feeds the roots of the vine. The wine is delicious!
Timanfaya National Park
Graciosa from Lanzarote
After a few nights in the marina we decided to leave Lanzarote and cross the 5 miles of water separating us from Fuertoventura. The pilot book described a little island on the northern end with a good anchorage and a little lagoon. A must see. we thought.
The sea was very lumpy and there was no wind so we motorsailed across to find rough seas, black uninviting cliffs, surf pounding over the entrance of the lagoon and the beginnings of a shower! It was the most dreary, uninviting place we had ever seen. We headed back to Lanzarote and anchored off the lovely little beaches of Papagayo. The anchor went down in 10 metres of water and we could see it in every detail sitting on the volcanic boulders on the bottom!
View from Green Flash at Papagayo
---