Porto Santo

Clansman
Sun 13 Oct 2013 16:55
33:03.7N 16:19W
We arrived at Porto Santo marina at 0915 having enjoyed the view of the sunrise shining across the rugged eastern end of the island as we approached.
Being at 16W longitude and on one hour ahead of UT, like the UK, sunrise and sunset happen quite late.
The crossing from Lisbon was pleasant, we were very lucky with the weather despite having a day and a half of no wind. The wind never exceeded 18 kts and the wave height never more than 1.5m, mostly less than a metre.
513 nm were logged.
After doing a few tasks on the boat we walked into town and browsed the shops, then found ourselves at a very pleasant beachside cafe/bar. Pic shows the view along the beach.
Simon went off to find Christopher Columbus's former home, he found it, it's now a museum but was closed!
The long sandy beach sets Porto Santo apart from Madeira, that is said to be lacking in this respect.
Definitely worth another visit as our departure for Madeira tomorrow morning will not allow time to explore further.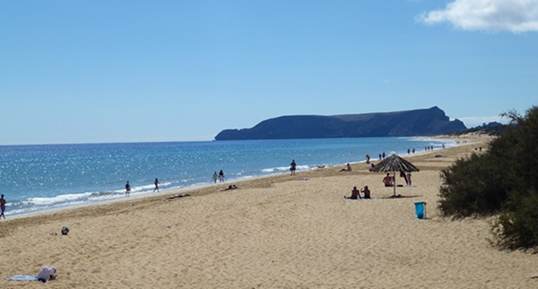 ---