Good times in Madeira - part 2

Good Company
Richard and Janet
Sat 23 Aug 2014 14:47
Yesterday (Friday) we went back to Funchal by bus to complete our sight-seeing there. I shall get back to our two days of touring by car in the next installment.
Lise and Kevin had already been back and we decided to follow in their footsteps. Our first stop was the market, Mercado dos Lavradores, where we saw amazing displays of fish, fruit and vegetables over three stories. We were fascinated to see scabbard, the ugly local fish hanging off the tables. We have not been brave enough to eat it as although it is a local delicacy, the waiters seem loathe to recommend it! We also saw shad, so called in Natal (blue fish in the USA), huge tuna, squid, and many more. There are fruit and vegetables of every kind, and I am in mango heaven... I love all fruit, but it is my favourite!
We then took a walk through the lanes of the 'old town' established in the 1500s when the first settlers arrived from Portugal. Many of the unused doors have been beautifully decorated. Not surprisingly we took a photo of one with an ocean theme. The lanes are all cobbled and the only downside was that by the end of our afternoon, the soles of my feet were quite sore, even with my rubber soled sandals We had a delicious meal at the 'Restaurante Embairador Madeirense'... a long name for a tiny venue... later in the day: two salmon steaks each, rice, beans, marrow and salad for 6.90 Euros, and all so fresh!
We took the cable car to Monte, 600 metres (1970 feet) above sea level. This area became an escape for well-off traders from the heat of Funchal and one immediately feels the coolness in the air. We didn't visit the Tropical Gardens, but did stroll around gardens of the Quinta do Monte Hotel and looked into the tiny chapel (seats 12 people). We went up in the cable car with a couple born in Madeira and visiting from Epsom where they have lived for 15 years. They told us about the devastating floods on the island in 2013. After looking on Google when we got home we are amazed that there is not more evidence of the terrible destruction of the 2013 floods, those in 2010 and a terrible fire in 2013. They are still doing road repairs down on the road at the sea front, but we didn't see any other evidence in Funchal. On our drive we did see construction work on a new canal on the road from Ribeiro Brava to Sao Vicente which must be for flood prevention.
We did the 2 km wicker basket toboggan down from Monte to Livramento. This major tourist attraction ended up being disappointing for us because we were the fourth sled in the row and they kept slowing down. It is all over in 6 – 7 minutes and somehow did not feel worth 30 Euros. Kevin and Lise were lucky as when they went they were the only sled and had a more thrilling ride. The sleds were originally pulled by cows and used for transportation up and down the mountain but I haven't found out when they started using them for tourists. They are now pushed... and pulled by fit fellows in white clothes (looking like cricket players!) wearing boater hats and have car tires under their shoes. The sleds have hardboard skegs which they grease with rags and the road has become really smooth and slippery.
After the ride taxi drivers are waiting to take you 6 km (they say) down to Funchal at a cost of 20 Euros! We decided to walk, to the taxi driver's disgust (we do know that they have to make a living but they shouldn't be greedy) and although the road was somewhat twisty at first, we soon reached the pavements of suburbia. It only took us 35 minutes and we earned our lunch!
After lunch and a short stroll to the newer part of town to find a gelato for dessert, we made our way to the sea front to get the 4.30 express bus. Later we were really glad to have got on at the first stop as being Friday there was standing room only. We arrived back at the marina at 5.45, happy to see Good Company waiting for us. She has not been quite so comfortable for the past 36 hours as the wind changed to the west and the surge has been coming into the bay, jerking her around at times and the walkway onto the jetty has been creaking madly. However, that is part of boat life!

1. View from bus, showing the tunnels on the express way

2. Scabbard, some already skinned
3. Fish hall

4. Vegetable market - view from top floor
5. Janet next to a decorated door in the lanes
6. View from cable car
7. Harbour from cable car
8. Sleds in front of us
9. Richard outside the restaurant, happily fed and watered!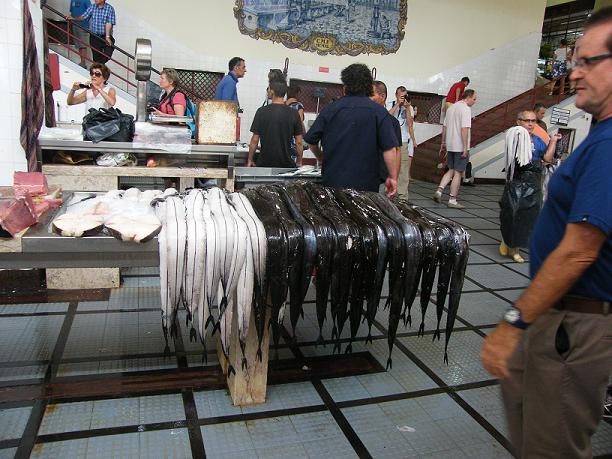 ---