Caneel Bay St John USVi to Jost van Dyke

Caribbean adventure
nick & annabella Atkinson
Fri 3 Dec 2010 01:10
Wow!! Where do we begin! What a busy 24 hrs! We arrived in Caneel Bay which
had the most gorgeous golden sands and palm trees and a bit of tranquility
which was bliss!! Fantastic snorkling although sadly on this occasion it
slipped us by as we got overtaken by other chores although we did manage a
stroll along the balmy sandy shores with the waved lapping at our ankles -
and not a hotel or building to be seen - heaven!! We also tested the dingy
and outboard after its slight flooding and road tested the trip to Cruz Bay
(a ride 15 minutes away with some big challenging waves which were actively
encourged by passing sunseeker type boats!) Cruz Bay is the busy main town
on St John which is St Thomas smaller sister island. Fingers crossed the
dingy is still plaining and we have wet bottoms all round to prove it!!

We also had had our first bbq on deck overlooking the brushing seas and
quiet coast line and decided that we really had not lost our light weight
tag and headed off to bed early for the planned early rise. however we were
kept awake most of the night by heavy sea rocking and strange banging. By
just before dawn, we got up to try and trace the noise - only to discover
that the mooring bouy we were tied to had managed to wrap itself around our
keel in a position most yoga experts would be proud of. After much
deliberating and Nick sitting on deck for a while, mother nature took charge
for once and kindly untangled it - saving me the job of diving down at first
light on a rescue mission!

Once we had been to US customs in St Johns (US Virgin Islands), we hoisted
the mainsail up and set sail in the morning sun to the infamous Jost Van
Dyke - a great pin on the US tourist market as well (although it is our
first pit stop in the British Virgin Islands). More excitingly, we were
heading to the legendary Foxys Bar on Jost Van Dyke which has been a
highlight of our trip and is renowned for having one of the worlds top 10
new year parties - our Antigua Kettle Crew and the Agrega gang would be in
their element and were indeed the only piece of our missing jigsaw! It
really is a lively place which fits right in with the Heineken Bar at
English Harbour in Antigua (the old faithfuls will know which bar we are
referring to!!). After hitting the customs office in Jost Van Dyke (British
Virgin islands) we waited in anticipation for our first proper check in
(boat included). We then scraped for 25 cents to pay for our form - no mean
feat when no one has change! The old faithful British passport did us proud
and we are glad to say we are all legal and have our first passport stamp
with the boat name in it - bring it on Tom Tom!!

Just before sundown, we went for a snorkel where I was able to show Nick the
keel and propeller were in good working order after an earlier incident.
After blissfully showering on deck in the sun set using Nicks amazing Ebay
contraption of a solar heated shower bag (dont ask!) we were ready for
dinner. We headed over to another boat for a quick hello (we have to say,
Americans are truelly friendly, hospitable and kind where ever we go), we
then headed back for a bolongnaise to cancel out the old "eating is
cheating" rule and braced ourselves for our first proper Foxys Bar
experience - torch in hand and snaking through the evening shadows towards
the welcoming palm tree and hammock, the bar is peeping behind full of
swaying bodies and pumping carribbean tunes - Bring it on!! !! The next
chapter awaits with baited breath!!!.....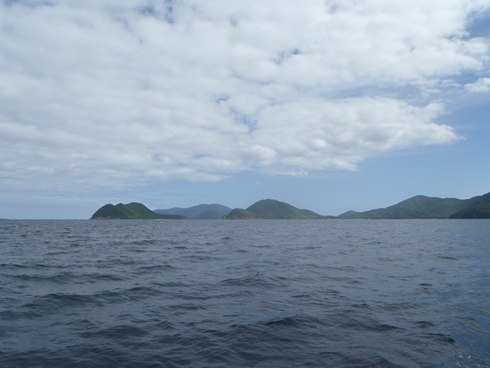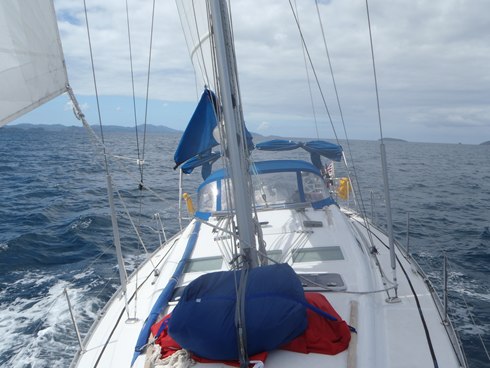 ---