Virgin Gorda (Bitter End, Saba Rock & Necker)

Caribbean adventure
nick & annabella Atkinson
Tue 14 Dec 2010 22:43
Sorry for the lack of postings but we have been having so much fun and computers are the last thing on our minds!!
We have spent the last 3 days at Saba Rock in the BVI's which was great and amazing; we have been there before and definitely the nicest place in the BVI that we have visited – in fact make that one of our top places ever – it truly is heaven on earth... and as if we needed any proof, Richard Branson's famous Necker Island is a skip and a jump (literally 500 metres from us). Saba Rock is located right next to Bitter End which is a truly tranquil and beautiful tropical resort which is much knowing by the racing fraternity for its famous 'Bitter End Regatta' for which on our last trip, we managed to bribe a bar man $50 for a much coveted Mount Gay Regatta infamous red cap!
On our first day, we went to an island next to Saba with a dreamy beach and a cocktail bar where Nick and I took the dingy and went on a mission to frequent the stingrays which litter this coast.  Nick and I had a bad case of 'Steve Irwin syndrome' unfortunately and were a little jumpy to say the least at how curious they were – the test was when nick miraculously spotted  a stingray over a metre long from above water while I was literally scuba diving next to it (just shows how camouflaged they are under water with the sand!) it headed towards us – to which we both hot footed it out of the water – quite a sight with flippers – I have no idea how ducks do it but there is a reason humans don't have webbed feet!!!
On our grand trip to the customs office, we took the dingy across the waters for a wet journey to a local towns jetty which almost looked like a derelict town.  By sheer chance we managed to hail a taxi and as we started to wind through the roads, we were suddenly struck by how high up we were – touching the top peaks of one of BVI's main islands called Virgin Gorda.  At 800 metres high (and looking at the rusty taxi we could not believe the sheer power capability of the local cars brakes capability!) we witnessed probably a life time moment of some of the most spectacular views we could hope for.  With Bitter End, Necker and Saba Rock peeping out against the most unbelievable coral reef sea – that beautifully light wishy washy sand touched sand which happens to be on Horseshoe reef which is the second biggest reef in the world, the sheer drop and sight was awe inspiring.  The drop before Spanish Town where customs were based was also a truly inspiring sight of gold tropical desert beaches with waves lapping against the shores.  However Spanish Town was the hard bump back to reality.... a town full of muddy roads, unhelpful people and little much to report back to home about other than  being quite close to the famous 'Baths' which is natures Jacuzzi  as a result of smashing waves through the rocks on yet another sandy beach cove – sadly on this trip, we didn't make the journey there though! On arrival to check out of customs in Spanish town,we were told that we were too early and would have to come back'; this we did and the whole adventure cost 200 dollars by the time we made our second trip (very expensive but that is the BVI's)...and all we had to show for it was a taxi who played 'taxi tag' – i.e.  he tells you the location to meet, and then meets at another and you finally catch them after a number of coded calls!!
Once back at 'the ranch' life resorted back to paradise mode.  We took a whole day off as chilling time and went to explore our favourite beach ever which is known as 'Mosquito Island'.  Sir Branson has also taken this as a recent purchase but we took our chances and at the lack of any visible human in sight, we pulled the dingy ashore to this sandy palm tree lined deserted island overlooking another secluded and sandy beach ridden part of Virgin Gorda – this is the most relaxing and peaceful place we have been to as the BVI's has been inundated with sunsail type charters and it is indeed very rare to have a whole beach to yourself!  Having had our Robinson Crusoe moment, we headed to Leverick Bay which is on the way back to Bitter End – I may also add that the whole dingy journey from Saba  Rock to Mosquito Island is at a push only 15 minutes!  Leverick Bay was our laundry moment and we chilled at the beach bar overlooking the Laguna while we whiled for our 40 minute Persil cycle to do its job – during that time, Nick managed to meet a girl who went to school with his cousins – all very weird!!
After an evening that gave us a true hangover – having met an anaesthetist and his wife from Newcastle that lead to our latest night yet – 1 pm!!!! We had the next day to recover, make the second trip back to Spanish Town and go to bed at 8pm to prepare for our 4:30am dreaded sail to St Martin.  Nick was well prepared with every wind map  we could hope for and we laid our heads down to rest to await the early journey – would it be light or dark by 5am?  We were placing our odds.......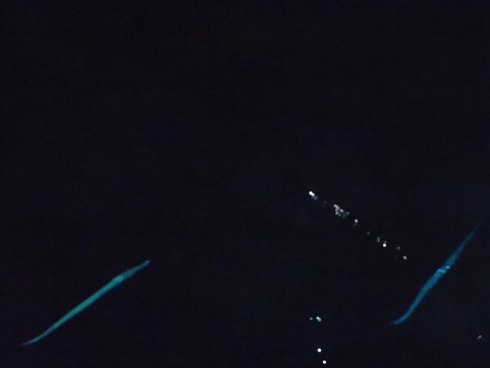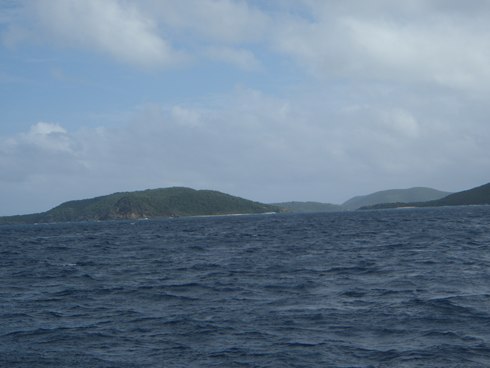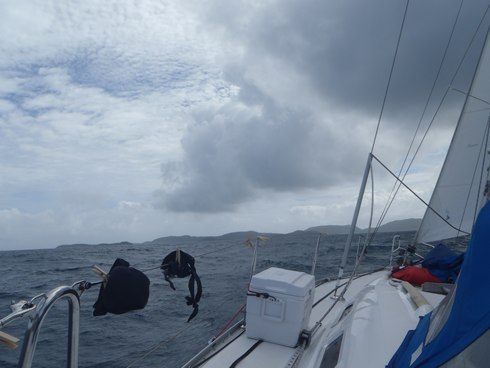 ---