Monday 2/12/13

Jinja
Ian Matthews
Mon 2 Dec 2013 15:37
We have had a very easy night and day. Light winds slowly veering in the direction we want. It is now northerly and blowing about 12 knots. We really need it to be north-east and 15+ knots. We have managed to put up the gennaker but would like to put up the spinnaker itself. We have 1500 nm to go and we are at least pointing in the right direction but we need to make 250 nms a day and we are not doing so. However the washing has been done; the boat is aired; and spirits are high.
Here are some examples of what a committed quality cross-Atlantic racing crew do in these gruelling circumstances:
We thought we were going too slowly so Ru dived under the boat to see if we were trailing weed: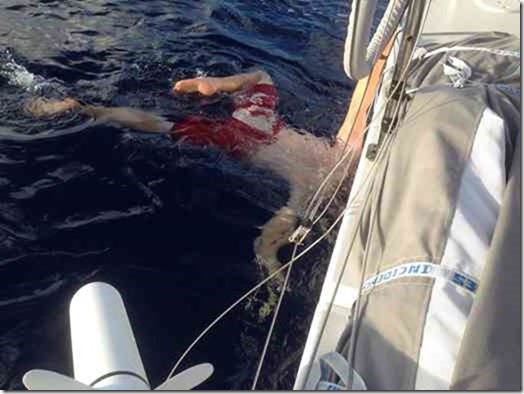 No weed – all clear and no excuse found for the slow progress.
Washing clothes day:
Hanging out the washing:
The crew fine-tuning the racing machine (the horizon wasn't really like that, it is the fault of iphone panorama technology):
The boys modelling modern swimwear:
J presented his Kilogram of Fun - Nachos:
Is is 14.30 local time (15.30 UT) and we are at 20 40.47N, 35 14.76W
We keep thinking the wind is increasing and we have at last put up the big spinnaker – fingers crossed
---