The Start

Jinja
Ian Matthews
Sun 24 Nov 2013 17:12
The crew of the Jinja
There was a band to play us on our way and they came onto each pontoon
People were lining the breakwaters on both sides to watch the 270 boats come out and sail towards the start line.
The start line was crowded!
We made a good start – the multihulls started before us, and we were not first in our group.....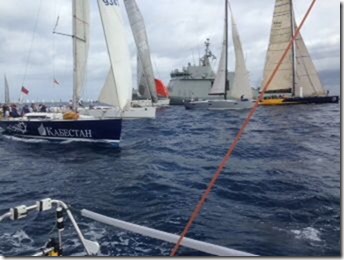 but most boats were behind us.
We got into a wind "acceleration zone" and managed 19.7 knots (Al on the helm) in 30 knot winds. It has all calmed down now but we are still managing 8.5 knots in 9.5 knot wind. The sun is shining and everyone is smiling.
We are at 27deg 37.1 North 15deg 24.299W
---