Day 18

Amandlakulu
Sun 21 May 2023 21:46

39:14N 34:46W

Staccato thinking from a tired brain …

Took coffee and weather on-deck first thing this morning. As you can see from the image, quite civilised. Coffee, weather and monitoring VHF 16.

As the sun rose bringing warm air with it. It was lovely to feel the warmth of the sunshine. We are all certainly feeling the chill and crisp air compared to the heat of the Caribbean.

Eventful morning. We spotted floating plastic debris and decided to pull it from the sea.

Moral dilema. There was so much life living on it. Crabs, mussels, worms (large and small). After discussion decided it was more wrong to kill all the life, than to return it to the see. Was it right or even legal?

Many jumping and playing dolphins today. Only a couple of whales!

Foredeck picnic for lunch. I made French onion soup served with fresh chunky bread, fine olive oil and balsamic. Massive success, went down very well. Amazing what can be achieved with a few ingredient substitutes, imagination and presentation skills.

J did a cracking job breathing fresh teak-vigour into weary looking wood.

Flat sea. Many many sail fish. Mirror like sea for most of the day.

It is a bit of a gambling game as to where the wind will come. Being to the north is going to pay. Those to the south looking at a beat up to Azores and not arriving until possibly next weekend.

Boat love with whipping halyard end ready for re-mousing.

Penultimate frozen dinner on tonights menu … no-one remember what it is so will be surprise! Andy bringing his twist on sides. Smells bloomin' good.

Arrival … Hoping to be on land and checked in with immigration and customers by Wednesday close or Thursday open latest. Though it's a boat, it's the sea and shit happens. It could well be the weekend if anything unexpected happens.

Here's to the final push to terra firma.

Fair breeze, godspeed and following seas.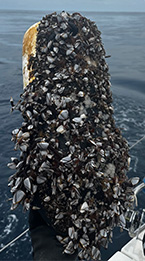 ---