No Wind

Halsway Grace
Robin and Sue carter
Fri 9 Dec 2011 15:31
The Air temperature is 90 (32c for the younger genertion) , theres no wind, the sails flap around in the swell and we only have 500 miles to go! Its such an indignity for a boat like me. The crew just loll around reading a chatting about the partying they may be missing in St Lucia. But, the skipper has a new plan.........a rosta of people kicking hard over the stern. Thank goodness there does,nt appear much enthusiasm for it.
Much more of this and they'll fire up me engine. I've got enough fuel for about 200 miles, so that wont help em much! They just have no patience these sailors today..... spect they'll be fishing again soon.
Last night they were eating Boef Borgnion with a bottle of Rose and talking about launching the Cruising Shute the following morning......best laid plans of mice and men..... Ha, i say, ha!
Love to all,
Halsway XX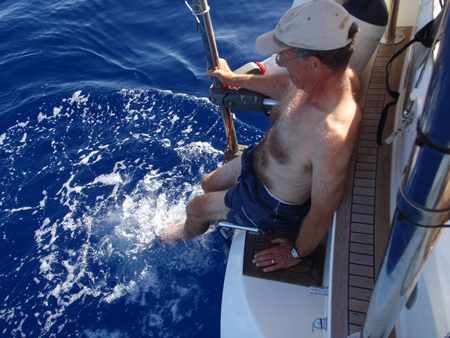 ---