D Day minus 6

Halsway Grace
Robin and Sue carter
Mon 14 Nov 2011 16:45
We are all keen to be off now, champing at the bit. The skipper and his wife are far too comfortable in port, lots of drinkies and socialising. They've nearly finished all the jobs,crew arriving on Weds and masses of food arriving on Friday so no real excuses.
They all took part in a grand opening ceremony yesterday, all the crews processed behind their country's flags with a drum band, the noise was deafening. At the end there was a daft dinghy race with lots of crews doing strange things involving water and flour and it wasn't bread making!
Keep those 'duration' guesses coming in, maximum is 24 days and 5 hours so far, any advance? I'm sure I can do it quicker than that!
Here are a couple of photos for you.
One is of tree planting to offset our carbon footprint and the other is of me 'dressed overall', I think this is my better side......
Look forward to hearing from you (while its easy)
HG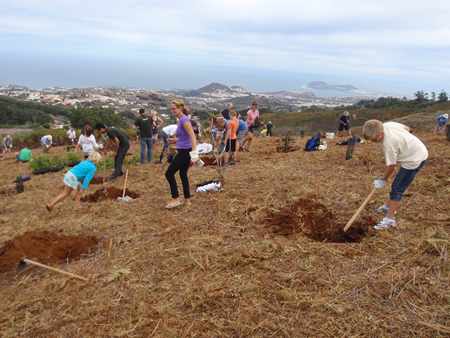 ---