Departure day minus 12 and counting down

Halsway Grace
Robin and Sue carter
Tue 8 Nov 2011 17:56
We have all progressed although you wouldn't think so if you saw the state they have left me in. The only saving grace is that all my mates around me are in an equally distressing state, apart from one, goody, goody 'Saltwhistle 111' is spruce and clean and is even 'dressed overall' (when you have lots of small flags up to the masthead and look most fetching). We are all supposed to be dressed likewise but most skippers have as their priorities, making their boats safe, sailable and full of food as well as the odd party thrown in. Saltwhistle is ahead of the game!
So, Jerry the rigger has been up my mast and checked all the rigging and given me a clean bill of health (even said he'd go to sea in me but there isn't room). Joel came today and did the safety check which he was very pleased with even if my captain did tell Sue that she'd be ticking off the RYA list before she got in the liferaft, rather cruel I thought and thank goodness Joel was impressed by all her work!!
We are a really international group here, next door I have a Norwegian boat with a family of 4 including 2 boys under 10 years, their friends are opposite with even younger boys. On the other side is a British boat, opposite them are Australians then there are Danish, Kiwis, Fins, French, Germans and Swedes. We are all more or less the same size, 12 to 14 metres long but the biggest boat so far is 25 metres, a Whitbread boat called 'Rothmans' and the smallest only 9 metres. So you see I am on the small side but there are a lot similar to me. Safety in numbers.
Yesterday all the little Norwegian children had a go at donning their lifejackets and jumping into the water beside me to feel what it would be like if they had to do it for real. They were very impressive especially the 6 year old in his dry suit. I'm getting 'them' to send a photo for you to see. I also got my registration number yesterday – 211 and it is now displayed on my starboard (right hand) rail. It was also the night of the first cocktail party and so I had a peaceful evening while all the crews were away.
Looking forward to hearing your estimates of how long it will take me to cross the pond, see the last blog, remember there are prizes to be won!
Cheers
HG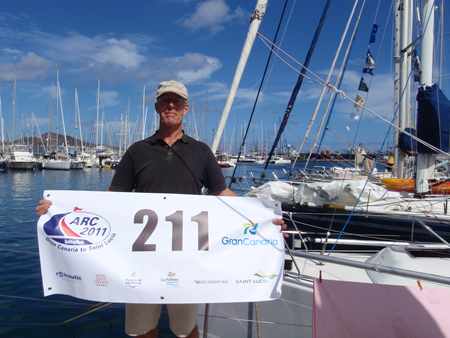 ---