Last minute jobs...

Kachina
Richard and Rachel Caswell
Mon 24 Nov 2008 02:03
Hi All,
My broken tooth has been replaced by a crown and we're now stocking the boat up with all those last minute items that seem so essential to get before we leave ! We need to get through xmas and NY so that means a few extra items thrown in the shopping trolley as we tear round the supermarket again for the umpteenth time, then bundled into the dinghy and chucked onboard to be put who-knows-where ! Yikes !
And all this seems to make that old saying about what BOAT stands for come true too - Break Out Another Thousand......time we went to sea ! For a long time too !
Weather's looking good for the next week or two, so will mosey on out soon and have a look, and just see whether we need to stop along the way or not...otherwise it's the San Blas Islands that we're aiming for by xmas.
The three photos are mainly at Grenada Marine when we hauled out. We had the best spot at the marina with the coastal view and light breeze, and Richard putting up the wind generator.
Until next time, wish us fair winds ! Rachel & Richard.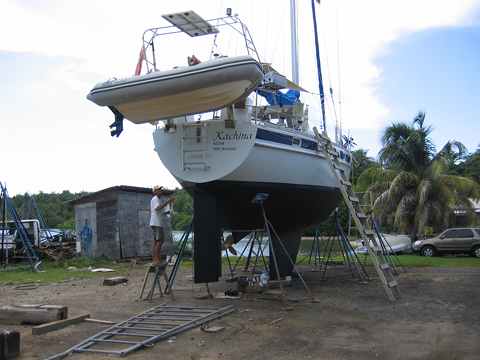 ---