FW: Ships date 5.0 Thursday

Pampero
Roger Aylward
Sat 9 Aug 2008 09:58
A further Iblog
Roger
---
From: pampero [mailto:pampero {CHANGE TO AT} mailasail {DOT} com]
Sent: 07 August 2008 15:18
To: pampero+diary-354993 {CHANGE TO AT} mailasail {DOT} com
Subject: Ships date 5.0 Thursday
Sadly I have not been replaced and so here goes……The weather is good, the wind is in the north, the sun is shinning and we are creaming along at 7.5 to 8.5 kts heading directly for Tenerife a mere 8 or 9 hundred nautical miles away. We were delighted to reach our waypoint at the end of the Bay of Biscay at 8.00 yesterday evening. We had already started to sail in sunny conditions in the direction we wanted to go and have done so since. What absolute joy; we now remember why we are on the trip. Tomorrow's forecast is good and so spirits are high. The first attempt at fishing has failed though = boat speed too high1 We have seen a few birds not much shipping and lots of sea.
I thought that today I would feature one of the crew John Kress. He volunteered to organise the catering but is also head chef and washer up. He is John planning yesterday's culinary delights.
Now you can see the execution, no not his, that will be later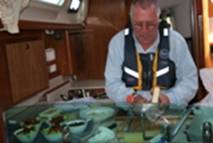 But he does have a day job too
Which he can do from the boat.
I think that the sun is too tempting and anyway I am supposed to be in charge up there. We welcome any positive feedback providing it is complimentary and flattering at pampero {CHANGE TO AT} mailasail {DOT} com and certainly not too long without pics and attachments
Log in tomorrow
Roger
---