Ship Date 7.0 Sunday

Pampero
Roger Aylward
Sun 10 Aug 2008 15:43
Hi
We are lazily cruising down at 5/6 kts to the Canaries; the wind is in the North at f2/3 with occasional gusts somewhat higher. The sun is strong and all is well. There are 360 nm to do and our ETA at Santa Cruz is Wednesday Morning but who knows.
The pics are all about cruising south under the Genoa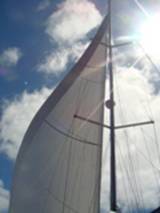 We have a further 2 days of this soporific cruising – reading and talking and sleeping.
Will send a blog tomorrow if awake.
Skipper Rog
---