Blog No 8 - Friday 21 Novemberr

Pampero
Roger Aylward
Fri 21 Nov 2008 15:30
Day 8 Mileage 129 miles – 2 hours motor – total (10.45GMT Friday) is 1011
Not very good progress over the last 24hours due to lack of wind and messing around with the cruising chute. Overnight the wind veered to the South East. Now the little wind there is, is on the beam and we are sailing westward and it is unbearably hot. We have put the bimini (sun shade) up but I have just been joined by the rest of the crew trying to escape the heat.
We are currently looking at a ship, the first that we have seen for a week – great excitement!
There isn't much to report except that we have run out of Cornflakes. When we were shopping we made a policy decision that we would not eat cereals. However we have had cereal for most breakfasts and have now finished the empty packets from the previous trip. We are looking forward to choosing which tins we are going to open tonight having finished the fresh meat – more tomorrow.
You all will be pleased to know that we have had a hot shower today (from yesterday's motoring) and have done a considerable amount of washing. In fact we concluded that we needed a longer boat in order to accommodate the washing!
I am in trouble from my 4 year old grandson Findlay that there are not any pictures of "Rog" so here goes:-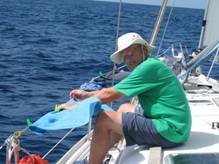 I gather that the position up-date on the map is not yet every day but still at the original 3.5 day interval – I will chase this up again.
Roger
---