Finally! Las Palmas!!

Chill Out
Geoff Evans
Wed 5 Nov 2008 19:59
After leaving Sweden on the 6th of October we have finally arrived almost exactly one month later in Las Palmas!!
Its been a great trip, from Vaxholm to the coast of Africa! (which we sailed past and sounds better than the Canaries!)
Here we will prepare the boat (and crew) for the crossing to the West Indies!
The crossing from Porto Santos was uneventful, with little wind and reverting to using the engine a lot more than we are used too!
I had a dolphin show on my watch, but by the time I got the camera out they were on their way, so the picture is'nt that good!
We came across an island which was a nature reserve where we were surrounded by thousands of birds!!
It was like something from the "Birds" from Alfred Hitchcock!!
The marina in Las Palmas is full of boats preparing for the crossing and we have a fair bit of work to get done.(more on that later)
Thomas and I are flying back to Sweden for a week or so, while Mats, Janne and Lotta are staying on in Las Palmas.
Janne and Lotta are leaving on the 18th and I would like to thank them for their company and expertise during the trip from Falmouth..its been a lot of fun!
We're here until the 22nd of November and leave on the 23rd, so the next update will be the 16th-20th during the preperations before the off!!
Thanks for following our progress, its fun for us to know that you are watching us!!
Cheers from Las Palmas, the Sailors bar! (and to answer your question GP no its not Gay!! not that gay anyway!!)
Jeff, Thomas, Mats, Janne and Lotta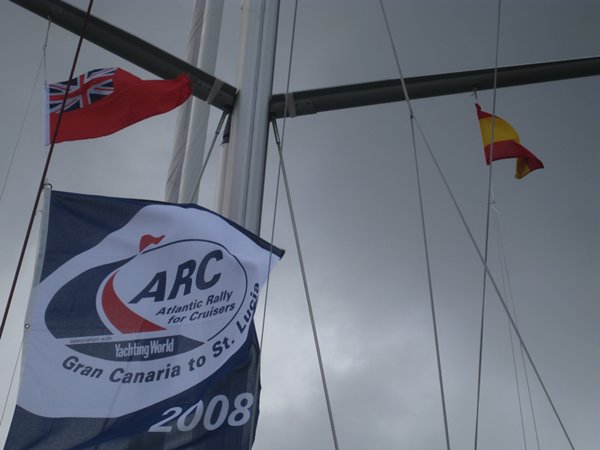 ---