Kiel to Falmouth

Chill Out
Geoff Evans
Thu 23 Oct 2008 10:56
Apologies for the delay in updating the blog, but its been quite hectic!
We left Kiel pretty much as planned at 06:00 with a good passage through the canal, its a pretty busy channel used by all size's of ships so its important to be in the right part of the canal!
After a days motoring (no sailing allowed in the canal) we emerged into the North sea, at last we're on the right side! Next stop UK!
The trip across the north sea went well, with some good sailing, (a new record of 11.4kn) ziggzagging between oil tankers, oil wells (easy to see at night!) and being harrassed by the fishing trawlers.
It was a fantastic sight seeing the white cliffs of Dover appear, Erik raised the flag while I had a cup of tea and sang, There'll be "blue birds over"!
As we were low on fuel, we headed into Brighton on a falling tide to tank up, here we also had a mechanic onboard to check a propeller axel gasket, which was ok.
As we were leaving the weather turned really nasty, and as it was already 18:00 we decided to stay the night and go to the pub!
The next morning the weather had gotten worse with high winds and waves, and after a few problems getting away from the jetty (we had the wind pushing us on) and thanks to Mats skills honed from working on the Waxholms boats we were on our way!
Once clear of the harbour we had the wind dead against us for our course to Falmouth so decided to head across to the Solent to Portsmouth, this took us approximatly 50 miles closer to our destination and took 12 hours!
Upon reaching Portsmouth we tried to call up the marina both via phone and VHF but could'nt get hold of anyone, so just took the first best place, which happened to be next to the Clipper round the world fleet, now thats what you call a sailing boat!
We decided to find the nearest pub, but did'nt have the access codes to the marina gates, but this posed no problem as we had our own spiderman in Erik, who was up over the gates in about 10 seconds and opened up from the outside!
After about a miles walk, we cam e upon a dingy but friendly pub, where we had a few pints and ordered chinese and indian takeaways for the boat, getting back to the boat was'nt as easy as the main gates(about 30 feet high) were now also locked!, After a detour of about a mile, we found another entrance and finally made it back, curries then bed!
The next morning we left Portmouth heading for Falmouth, we had the tide with us had had fantastic sailing both day and night. I came on watch at 06:00 and had the enjoyment of sailing us into Falmouth, we had had a bet on our arrival time and Seth (Charlie) had bet on 08:00 we arrived officially at 08:00:04secs!
Well berthed in Falmouth we made contact with the Marina, as I had booked a lift for "ChillOut" to have some work done, so it was off up to the yard to get her lifted, and get the crew booked into B&B's.
After sorting out somewhere to stay, we then went out on the town, and it was a good night had by all!
My family had come down from London to visit, (thanks Karen, Steve, Claire and Ben it was great to see you all!) and we had a great day out in Newquay and also met up with some cousins that I had'nt seen for 20 years or more which was really nice.
The boat is now back in the water and we are getting ready to leave for the next leg of the journey, across Biscay to Maderia or Portugal, we're just waiting for a favourable weather forecast.
Erik and Seth have now left the boat, and I would like to thank them for being part of the crew, we had a great trip with a lot of laughs!
The new crew has arrived, welcome to Janne,Lotta and Johan, Sadly because of the delay in getting the work done, Johan has to leave before we leave
due to committments in Sweden.
The people in Falmouth have been unbelievably helpful, and we've had a great time here, but now it's time to head south to the sun!
I promise to update more often!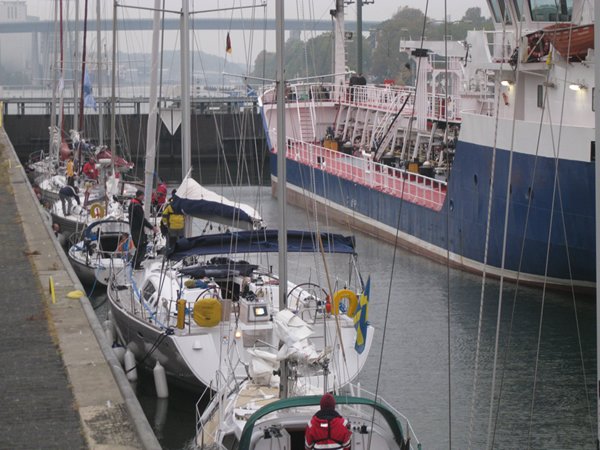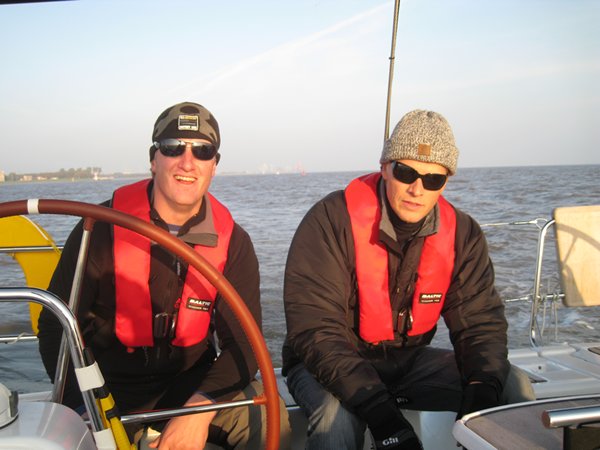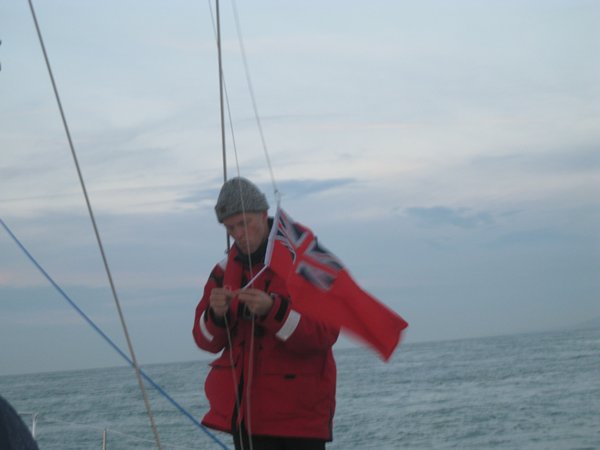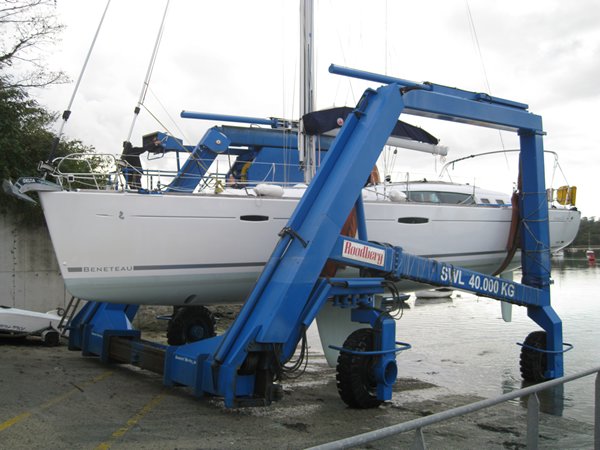 ---