broken finger and friends

Tunamoon
Julie and Geoff
Sun 27 Feb 2011 11:46
The last week has been a funny time, we seem to have had a little spell of minor injuries. It started off with me slicing a small piece off my finger on Sunday, then falling over on the beach and twisting my knee, finally followed by Geoff using his "Top Trump" card and shutting his finger in the car door, and breaking it in 2 places!! Oh and I have tooth ache too!
After a day at the hospital and a few x-rays later, Geoff has been "a stretcher case" and is certainly milking it!!!! (Oh darling, I can't wash up, make coffee, clean, etc etc)
As you can see we are in the best of health to take off from Benodet, we are sure someone is trying to keep us here!!! Geoff's finger will delay us as he won't be able to handle the winches etc etc so well, so we are looking to set off now around Mid-March. ( First dental appointment I could get is the 14th!)
That all said we are still really enjoying the area, and have been walking again and exploring further afield by car. It is my birthday next week, so we now may go and explore a bit further down the coast by car, as boating is not an option.
We had a lovely week as our good friends Anthony, Teresa and their dog Molly came over to their house in Brittany. We stayed with them for a few days and were treated like royalty with wonderful suppers and days out to new places. They then came to visit us in Benodet and we spent a great day having lunch in Sainte Marine and walking along the coast path.
It was great to see them and we feel quite lonely now their gone.
Here are a few pictures of the last week and a few internal shots of the boat as a few of you have asked what she looks like inside! You can see how sad Geoff is about his poor finger!!!
Love J and G xx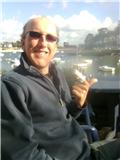 __________ Information from ESET NOD32 Antivirus, version of virus signature database 5911 (20110227) __________

The message was checked by ESET NOD32 Antivirus.

http://www.eset.com

---