Dubai

Moon Song
Laura & Alan Grayson
Thu 28 Feb 2008 06:54
Righto, we left Copenhagen in the morning but had to go back to London for a change of planes and a 6 1/2 hr layover. We could have got a later flight but seeing as how we have already missed one we decided to leave early to avoid that mistake again so we went to the movies at the closest cinema in London and then off to the local pub for one last feed of fish and chips, then back to the airport. Once again our luck was out and we sat on the ground in the plane for 2 hrs waiting for the de icing rig to turn up, having a real bummer of a time with this sitting on the ground waiting. OH to be in 1st class then at least they would give us something to drink. So we rocked into Dubai 2 hrs late and I thought we were going to get into more drama as Debbie, my sister was supposed to be coming back from holiday at midnight the night before... but she was on standby and not sure if she was going to make it so we had 2 back up plans and being late I thought maybe she might not be there. Lucky for us she was waiting for us and all was well. Lucky as we were both decidedly shagged by this stage.
Dubai has changed... by a long way. I was there 20 years ago. It was just a big sandpit then, now it is more like Disneyland. You would not believe the amount of building that is going on. Debs says there are 20% of the worlds cranes here and I could believe it as from her place we could count 39 cranes and that was only looking out one window.... and she is in the residential area miles away from the nearest high rises. Next day Debs took us down to the beach for a good view of the Burj Al Arab ( the sail looking 7 star hotel). We then went up a nearby hotel to have a look from the 25th floor. Quite spectacular. We then took a walk around a shopping complex which was built in the old style Arab Souk. All very well done, which happens when you have a shit pile of money I guess. We took a ride on an Abra, (a small local boat) around the complex which was quite a touristy thing to do but hey that is us at the moment so we had to live with it.
After that it was back home for a small girly nap. It was my birthday after all and Debs and Lloyd had a big night planned and a big night it was. To keep the roads safe we stayed at home for a fantastic BBQ of New Zealand lamb, fine wine, wonderful company, it was great! Haven't spent my birthday with my sister since I was in my teens, so just being there was fantastic. Baz's bar was definitely open. For my birthday Debs had this bar sign made up for me which i thought was a pretty cool treat, only problem is she gets to keep it for a while as we have no where to put it and no way of getting it back to the states. But just as soon as we necome dirt dwellers again i'm sure to be able to find a place to hang it. I also reckon it will get used quite a lot as well. I know you all think I'm a tired boring old fart and you'll be right but my hangover still hurt so I don't really care.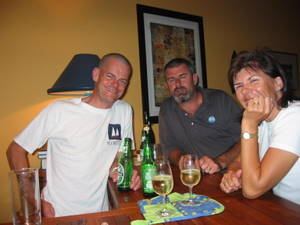 We toured the spice souks, gold souks... Fort Knox can't have this much gold. Lots of sparkles too. No wonder there is a sign in the airport coming in that you "must declare all of your rough diamonds" at customs. Laura really liked the 103 carat stone in a plain necklace. World's tallest building, flash cars, spice & gold souks.... it was time for a 4 wheel drive in the desert, an awesome day it was! Lloyd took his Mercedes 4x4 out into the desert, believe that!!! Who says I don't know the rich and famous AND he gave it death. He even offered to let me have a drive/crash but honestly I was having too much fun bouncing around in the passengers seat. I could get hooked on this desert driving stuff. Debs, Laura, and I took a walk up the ridge of some hills which rose out of the desert like some bloody great monoliths. It was Lloyds suggestion we head that way, I reckon he wanted to lighten the merc up so he could have more fun, not that I minded as the views were fantastic and as a little bonus a bunch of quad bikes were blasting up the side of these monoliths and making it to the top ( sand all the way up one side, rocks up the other ). Watched these guys for a while then headed back down to the merc. As we drove around to the front side of the monoliths we saw some dune buggies having a go up the front face. No problem for these guys in fact they had enough grunt to pull a wheelie on the way up the hill. There were three of them and they went up and down a number of times it was so cool. I was really waiting for them to go right over but it never happened. A great day in the desert!
Last day in Dubai and we decided we wanted to buy a Persian carpet. Debs was kind enough to drive us around the city all day while we umm and ahh'd over everything we saw. Finally settled on a couple and the deal was done. Now we have to go back to work a couple of months earlier than planned but at least our feet will be warm in the unheated tin shack we are gonna have to live in.
---