Paris

Moon Song
Laura & Alan Grayson
Wed 13 Feb 2008 22:31
Ah ! Gay Paree !!! What can we say about this.... Well quite a lot really. But first, British Airways, they have their drinks sorted out. All complimentary and they were even asking if we wanted another while the plane was descending. That doesn't happen very often. So we are off to a good start, Then we hit the Paris Subway at 8.30pm. Lets just say it is not as good as London's and count our blessings that we made it to the hotel in the same day ( note to self. leave lots of time to get back to the airport).
Continental Breakfast..... even smaller than London, maybe that's why all the women are hot and skinny!!! Ah gay Paree !! Off to the Louvre. Nice little walk thru the streets to get a feel for the place. They put posts in the footpaths in real funny places, normally right across the road from hot looking women, go figure. Enough said!
The Louvre, we spent from 10am to 4.30pm and all we got to see was 2 floors of 2 wings... This place is huge. You could spend so much time in here that you wouldn't see the rest of Paris. We were wondering why so many people were just walking through and not looking at any of the exhibits, I guess they were wanting to see the whole place rather than see anything that interested them. We did see the Mona Lisa, bit of a let down actually. Signs everywhere saying no photo's or videos, well we could hardly see the picture for all the flashes going off and the picture had a sheet of glass in front so none of the photo's would come out anyway not to mention the glare we had from the flashes. They have a very good Egyptian section which we spent a whole lot of time in. It was a good top up from King Tut's exhibition in London. The Louvre had 2 floors allocated to the Egyptians and we spent most of our time there and seeing as how others were
taking photo's we took a few ourselves.
It's a nice long walk from the Louvre to Arc de Triomphe. There is about an 8 lane round-a-bout to get to the Arc, glad they had an underground walkway! The walk up to the top was a bit of a mission as our legs are getting a little tired from all the walking. It seems as though our small boat is not big enough to get in the appropriate mileage each day, not to mention the last month was spent pretty much entirely on a boat of one sort or another. Sure am glad we walked each morning while we were in PLC before we left otherwise this would have been real hard. Spectacular views from up top. Had a good view of the Sacre Coeur which is where we are planning on going tomorrow. The weather was great with blue skies with just a hint of mog in the air. It seems that all roads in Paris begin at the Arc. I counted 12 roads joining up at the round a bout.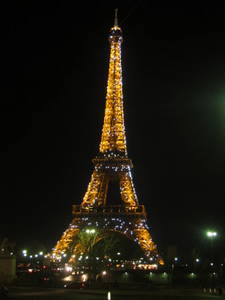 Then off to another "ABC"... another bloody church (castle). Sacre Coeur basilica - might have to see a few more of these Gothic churches before Laura gets her fill. I remember when Dave Morgan and I went around Europe when we were just young fellas. Saw a lot of churches then as well. Walked into a service once again (is this a sign) Laura enjoyed the organ & the choir singing during the service. You have to give it to the churches they sure know how to get the accoustics right. We stopped in a Irish pub for dinner which consisted of a great veggie soup but I think the best part was everything was in English. I must admit English sounds good when you hear it. It seems as though I don't know what is going on half the time at the moment.
Next day it was time for a long walk along the Seine in the sunshine, and low and behold one of the smallest cars we have ever seen. A little Smart car. This is the perfect place for these car. They manage to park these things in the smallest places and some of the funniest. If must give the traffic cops nightmares figuring out if they need to give them a ticket.We carried on walking until we arrived at through Notre Dame. More gargoyles on this one than I've seen before. These churches are huge! After the hundreds of steps to the domes of these churches for the view, it's hard to pass up the sidewalk cafe's. On the walk back to the hotel, damned if we didn't find a couple more cafe's.... was about as challenging finding the hotel as it was finding our way in the subway. I think we have our timing on this trip pretty well sorted, after 2 days of hard sightseeing then we have a slower day and just see something in the morning and chill out in a cafe or two in the afternoon. The weather has been great allowing us to sit outside in the cafe's in all three cities so far.
Travel day to Copenhagen was a bit of a nightmare. We gave ourselves plenty of time to get to the airport. Left the hotel at 8.30am to catch a non flight and got to the airport at 9.10am. The subway worked like a charm, then we were supposed to hop a flight to London at noon then catch a connecting flight to Copenhagen but the flight got cancelled due to fog in Heathrow, so instead of spending all day in a couple of different airports we spent all day in One. Charles De Gaulle. I must applaud British Airways they put us on a direct flight to Copenhagen with no fuss. It just meant we spend a bit more time in the airport bar than anticipated, actually it was quite bad as we had to pay for the beers rather than get them free on the plane.. Boo Hoo to us heh!!
---