London

Moon Song
Laura & Alan Grayson
Wed 13 Feb 2008 06:22
Had a good trip over from Madrid although Iberia Airlines are a little cheap on their short flights. They even wanted to charge for a coke not to mention the water. Cheap asses. It will be interesting to see if the rest of the flights around Europe are the same.
We arrived At our hotel about 6.30 in the evening after a ride on the tube and short walk to the hotel. As it so happened we walked past a couple of pubs on our way to the hotel so at least i knew where dinner was coming from. I haven't had bangers and mash for quite some time..... and now i remember why. Food was Ok but i think it was the smallest meal on the menu, not good for an eater like me.
Next day had a little walk around Hyde Park. It is great that everything is so close. Looking at the map it seems so big but a short walk covers a whole lot of ground. Went past Kensington Palace and Princess Diana's Memorial ( will check both places out a little later) then headed back to the tube station to head off to take a look at London Tower and the crown jewels. We did a Yeoman warder tour which was real good. These guys manage to add a fair bit of humour into the tours which really spices it up a bit. Managed to take lots of photo's of this place which was good as all the rest of the places we haven't allowed. Went thru and saw the Crown Jewels, Talk about some " Worthless" Stuff. Just to start with they have the 3 largest diamonds in the world. One the cullinan diamond was split and Cullinan 1 and 2 are still the 2 biggest cut diamonds in the world, then they got 7 others out of the remains. big stuff. Laura told me all she wants is a small Emerald but i'm not so sure if i want to be part of the heist team. I don't think that is exactly what she means but I can't think of any other way in which I could get even a small Emerald. We ended spending most of the day at the tower of London. It is a huge place. It covers just over 18 acres and there is plenty to look at. They have an Armoury which dates way back, plenty of old spears and swords and tin suits and what not. They had one part where they had refurnished it to look like it was in the 18th century. That was quite interesting as you never really get a good idea what it was all like from photo's and walking thru a big empty room.
We got out of there about 3.00pm and had a quick walk onto the Tower bridge which was right next door. Didn't hang around there very long as a stiff breeze was blowing along the Thames and it was freezing so we ticked the box and moved on. Stopped for a quick pint and a plate of chips for a bit of a warm up before heading to St Pauls Cathedral. This place is pretty impressive with all the usual stained glass windows and such but i was truly amazed at how many people are actually buried within the Cathedral. Lots of slabs on the floors which state " here lies the mortal remains of such and such", and these are the relatively unimportant ones. The big Honchos get big statues on the walls and any other spare space they can find. There are a few memorials as well. These people are pretty much all heroes of wars dating back to the 1600's, there is Nelson's monument as well as the duke of Wellington's, wasn't there a song about him. Didn't he march the fellas up a hill and march them down again???? Anyway all the famous warriors are there so it is a good memorial to remember the fallen. As a bit of a side note there was even 2 NZ prime ministers memorials up there. That was a bit of a surprise.... all these famous warriors who have lost their lives in battles... and then grouped among them 2 NZ prime ministers.... and it stated they were gratefully paid for by the NZ people, Hmm hope the taxpayers knew and were happy about that.
There endeth that day. What with all the walking and a bit of jetlag still lingering our poor old bodies are quite shagged so a quick meal and off to bed. We seem to be able to manage 10 - 11 hrs sleep no problem at all in fact it is hard to drag our sorry bums out of bed and down to breakfast before it closes, speaking of which. Breakfasts in Madrid were fantastic, A full buffet. Eggs Bacon, saugages, cereal,fruit, coffee the works. I turned into a rolly polly man after each breakfast and struggled to move for a while but by the end of a days hard walking i turned back into the fairly chunky bloke everyone is used to. Now unfortunatly the continental Breakfasts in London were a bit different, Just the usual Cereal and toast. So now we have to pay for lunch as well, Shame huh !!!
This next day we headed of to see the King Tut display at the O2 Center. This was a really good display of all the goodies from his Tomb. It is amazing just how many gold artefacts that he got buried with and he was just a kid, having died unexpectedly before his 20th birthday and yet they still have time to make up all this treasure for him. The amount of gold and other precious articles was just a portion of the stuff in his tomb and yet it filled quite a few rooms in the display. They had photo's on the walls, of rooms in the tomb where everything was as they found it, and all the stuff was just jumbled in there. It was not like it was set out in any fashion.
Next it was off to check out Big Ben and Westminster Abbey. Snapped quite a few pictures of Big Ben as it was a beautiful day and Big Ben just stood out so well. It was also to prove that there can be good weather in England. Clear skies have been pretty much all we have had in London which is just fine by me as i know how miserable it can be here. It certainly makes walking around the place that much nicer.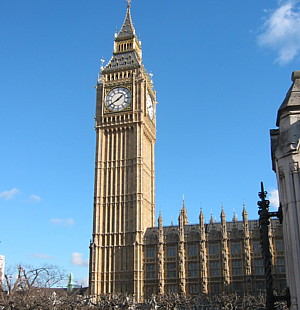 Westminster Abbey was impressive as well. Once again lots of famous people buried there. I am starting to get a bit jaded with all the churches now but you have to see these landmarks while you are there, so on on.
Next day was onto Buckingham palace and the changing of the guard. Laura was impressed with all the Pomp and ceromony. There are still quite a bunch of people who turn up each time to watch this so i guess they have to put on a bit of a show. There were 2 different sets of soldiers each with their own band both coming from differnt places. I tried to figure out how many blokes/guards that actually get changed and i think the number is only about 10 so it really is a whole big shebang for just 10 guys. Then they had 10 blokes on Horses all dressed to the nines who just walked past the palace, couldn't figure out where they came into the picture. Just another photo op i figure.
We ended up going back to the hotel room for a long afternoon siesta as the travel and flu bug had caught up with us by this stage and we were both absolutly shagged. Next morning tho it was up and about with a walk thru Hyde park to Princess Diana's Memorial Fountain.. Man did she get RIPPED OFF. What a puny we thing. It is not even a fountain as no water spouts forth so to speak. It just bubbles out of the ground and runs down the slope in the form of a circle, ie it goes from the top in 2 directions to form a circle at the bottom. They make a big deal about it being computer generated and formed to perfection and so on, in fact they go on about the making of it more than than they say anything about Diana. Shame, shame, shame. Well my dearies that is all on London.
---