Moon Song in Venezuela 10:12.48N 64:39.69W

Moon Song
Laura & Alan Grayson
Sat 17 Nov 2007 19:12
Welcome to our new blog site.
What have we been up to.... Well busy times for the folks here. We are currently in Puerto La Cruz, Venezuela. Which is the "Port of the Cross", there is a big plastic blue cross on the main drag of the town. It actually looks a bit tacky when you are close up, but there you have it.
We have had the decks painted while we have been here and it has been a major mission. We have had to take all the stuff off the decks to ensure we have had a good job done and the boys did a marvelous job. I do not know how the guys can stay out in the sun all day and still work. But they put in a full day with no shade. They sanded all the decks by hand even the places where i had filled holes with expoxy. I know my sander does not like doing those bits.
I'm really happy with the results and it was fast only 3 weeks. At the moment i'm almost finished putting everything back together which has been a lot slower than anticipated, I can't work a full day let alone be out in this heat. We have been living in an apartment which has been great if for the only reason that there is air conditioning which means cool while the heat of the day passes. Of course it is a bit hard starting work again at 4.00pm as it is sooo close to beer time but most times i manage a bit.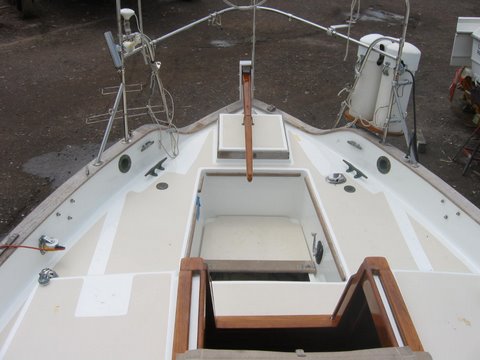 ---