Blog and news in English (also in the future)

SUFFISANT
Marina Passet
Wed 16 Jan 2019 08:54
Many of my friends are English speaking. I have decided to write all my blogs in English.
What happened until today? Here is a review.
Via con Me versus Suffisant - One went, one came
2015 / The sailing yacht Via con Me is history.
It was already in 2015 planned to sail the Via con Me from Trinidad to Europe. Unfortunately, a part of the crew was not able to listen to instructions. Especially for night cruises and given routes, instructions regarding course and safety on board should be strictly followed. The shipyard in Trinidad should also inspect the engine for the forthcoming Atlantic leg. Started in Trinidad, a storm came up on the way, and the engine should be started. Unfortunately, the engine didn't make a sound. We immediately checked all the connections, but didn't find out what the problem was. The engine was renewed 3 years earlier and was always running fine. Unsatisfied with what was happened on board with one of the crew (he never took a look or checked the charts) and as the time window to crossing of the Atlantic became shorter, I decided to sell the yacht in St. Lucia 2015. At that time the repair costs for the revision of the engine, the renovation of the kitchen and the whole check of the rigging would have been too expensive. With a broken heart I sold the yacht.
Therefore, the Sailing yacht Via con Me is now history.
At this time, I had the opinion that I could use a chartered instead of my own yacht.
2016 / Yacht charter and the purchase of a new yacht.
In late summer 2015 I was contacted by 6 people who wanted to sail the Caribbean for 2 weeks (all non-sailors).
So, I organized a yacht from a charter company in Martinique and sailed with my 6 non-sailors from Martinique to Tobago Cays and back. We had a lot of fun and two great sailing weeks. Back in Europe, I realized that I couldn't get any further with chartered sailing yachts. (Who will give you a chartered sailing yacht for a long-term sailing trip at a reasonable price?)
I went through various websites of yacht sellers, went once to France, went once to England, to have a closer look at the used yachts - after I had studied the data before. I went at the Boot Düsseldorf to have a look on new sailing yachts too. Finally, in April 2016 I found the sailing yacht. A Bénéteau Oceanis Clipper 331 built in 2001 was moored in the harbour basin of Brixham UK. Already the sight of this yacht with the suitable name "Suffisant" delighted me and when I entered the interior, I saw that the small sailing yacht (10 m) with 3 double bunks, toilet, shower, pantry, was in excellent condition. I opened every box, looking at the engine, bilge, deck, rig, sails and other accessories. The yacht looked as if it had just come out of a new production. The timberwork was in excellent condition. Only the windows were scratched. The deck had no cracks or damage in the gelcoat. I felt in love with this little boat. And last but not least, the boat was approved for the high seas.
However, I wanted to have a sleep over it again, before I decided to buy it. It took me 48 hours and I informed the owner that I wanted to see the yacht again with the beautiful and fitting name "Suffisant", take her out for a test drive and undergo her for an expertise.
At the end of April, I was the proud new owner of the Suffisant. From the beginning I was aware that I wanted to sail with this yacht more than just in European waters. After the purchase process, organization of the ship papers and the insurance, I brought the boat together with Andi to La Coruna. Already now I knew that the Suffisant had to be overhauled and equipped according to my needs. In my mind was, that I circum-navigate the world after my retirement. The start should therefore be in August 2020.
Suffisant in 2018 with Maststeps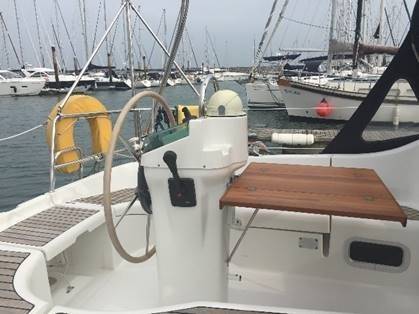 Cockpit and salon
Pantry and toilet/shower
2017 – 2018 La Coruna, what has happened so far?
The mooring in A Coruna is optimal. The prices are very favourably. The sail yacht is always hauled out in late autumn, brought ashore for the maintenance and goes in in spring. With the Marina Seca from La Coruna, I have found good partners there. Marina Seca respond to my wishes to optimise the ship for my circum-navigation in 2020 - 2023. Step by step the yacht will be optimized and fitted to the requirements.
What has been adapted and optimized until today?
Folding Mast steps
New Genoa
New Mainsail
Radar
New Plotter
Traveller
Boom Preventer
Control panel
Inverter
Electric anchor windlass with 50 m chain and remote controller
Bimini
Dinghy
Interior lights all in LED
Navigation lights in LED incl. a tricolour light in the mast
Life raft >24h ISO 9650
Life jackets (CO2 cartridge, manual, harness, life belt, spray cap, signal whistle, double crotch straps, neck fleece, reflective strips, emergency light)
Portable VHF Radio
Lettering
Ordered and some of the following units have been delivered:
Water maker Kathadyn Power Surviver E-40
Windvane from Hydrovane
Hydrogenerator Watt & Sea 330 W
SSB Radio unit with pactor, antenna etc.
You have to think of everything, especially since purchasing for spare parts in other countries could be difficult and expensive. In many sailing reports it's often stated that spare parts, certain screws, bolts etc. are difficult to buy. Almost have to be ordered from abroad and delivered to the location. This could go very fck… expensive. So, I did a list and wrote down what theoretically should be on board or should be checked by the Marina Seca in La Coruna before the start of the circum-navigation. The sailing trips with my former sailboat "Via Con Me" helped me to refine the list...
For those who are interested in what I have written down, here are my notes:
The words written in red are still to be done, either by the Marina Seca or by me. The others positions are finished.
Renew of the boat/flag documents, third-party insurance, hull insurance, accident insurance for the crew, health insurance, sailing licences, diving licences, renew passport, get visas for Australia, Papua New Guinea, Indonesia, x-mas Island, Cocos Keeling, Madagascar, Comoros, Mozambique, clear in forms (in some countries with an approved agent or pre-clearing by electronic systems), certification of the service for life raft, life jackets, EPRIB, licence for the radio units, medications must be packed original, labelled on me and there must be a confirmation from the doctor, certification of the hull cleaning/inspections (e.g. Galapagos will check this with divers so in Panama shortly before I leave for the Galapagos, the hull must be cleaned, painted and antifouling. This is also necessary for Australia, so the boat will be cleaned again in New Caledonia), survey report, purchase agreement, certification of the gas installation
Sea charts (electronic and papers), cruising guides, tide tables, pilot atlases, almanacs, courtesy flags for all countries (be careful, for some countries, this flag must be bigger then your own national flag!), yellow quarantine flag, emergency flags, signal anchor ball, motoring cone, sextant, Parallels, Triangles, Divider, pencil and eraser, writing block, photocopy/scanner unit, printer and cartridges, copy paper, log book, instruction manuals, note books, phones, battery charger, batteries, pens, USB sticks, coloured crayons, gifts and donations for schools
VHF fixed, VHF handheld, SSB, radar, radar reflector passive, radar reflector Sea me active, AIS Transponder/ Receiver, chart plotter, weather station, Navtex, Barograph, Wind direction indicator, Log, Echo sounder, Hand lead, Binoculars, Compass fixed, Compass handheld, Iridium phone, antennas, emergency antenna, Autopilot, Windvane, GPS, handheld GPS
Life raft >24h ISO 9650-1 container, life jackets and belts (harness, cartridges C02, manual, fleece neck, spray cap, crotches, distress light, whistle, reflective, with name, spare parts), PLB, working life belt, grab bag, first aid box for daily bruises, medical pharmacy case, jackstays, life buoy ring with emergency light, horse shoe life ring with light, telescopic marking buoy, rescue line, rescue sling, retroreflective tape, through hull plugs, knifes, EPIRB 406/121.5 MHz automatic/manual, fire blankets, extinguishers, new pyrotechnics (orange smoke, hand flares, Nico signal, rockets), glow sticks, emergency tiller, bilge pump electric, bilge pump manual, handheld search light, handheld spotlight, flash lights, head lamp, compressed gas fanfare, marine speakers, signal horn, dinghy, paddles, out border engine, plugs, spare parts
Windvane, Hydro generator, windlass, anchor and 50 m chain, 2nd anchor with line, water maker, Fenders, mooring buoys, telescopic boat hooks, Spray hood, Bimini, Genoa sail, mainsail, parasailer, trysail, storm jib, gennaker pole, sails in reserve (main and genoa), traveller, boom preventer, control and renew of the wires (rig and furling system), winches, ropes, lines, shackles, blocks, clamps, cleats, carabiners, winch handles, pad locks, spare parts for everything, salt water foot pump, oils, fuel filters, prefilters, grease, anodes, fuel canisters, impellers, service kits, V-Belts, spark plugs, diesel additives, water canisters, fresh water pump, maintenance kit for the toilet, valves, ball valves, fittings, through hulls, protective grates, water hose, hose adapters, textile tape, deck shower, dirt filters, gas (Butane) bottles, gas bottle regulator, hose, screws, bolts, tool box, rechargeable drilling machine, Batteries, Windows with mosquito screen very finely woven, LED bulbs in reserve and of course, all has to be serviced!
Beside that, the hull will be checked for osmose, painted and last but not least not forgot the antifouling!
I did a excel list for the Marina Seca, what kind of work when has to be done. So, they will start in 2019 and all-important stuff e.g. life raft, EPIRB etc. will be maintenance shortly before I start in 2020.
Marina
SY Suffisant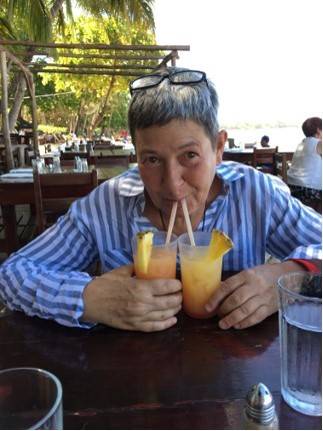 Tamarindo, Costa Rica, 2018
---