San Francisco and so much More! You can't Miss this One!

One Point Zero
Howard Fairbank
Fri 1 Jul 2016 10:27
37:46.731N 122:34.402W
Well we have Come and Gone!
The view from the porthole at 05h30 this morning is again a new one! Gone is the deep purple of the Pacific Ocean wilderness vista, replaced by a murky Pacific and fog enclosed capsule. Closer to The Porthole my view has expanded we are 500 containers less, and whole bunch of California's will be thankful their prized NZ lamb and beef has arrived!
In between these changing vistas 'was' Oakland and San Francisco!
The wilder pacific before land: Wild Intensity
'The Big Bridge' in our Sights': The Nature / Society Chasm 'Gate'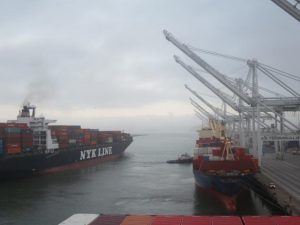 From 'The Porthole' in Oakland: Society Intensity, as a neighbour has 'Had Enough'!
On arrival we were delayed by port traffic……
Read the full Post here
If you haven't already: Check out the Shocking Facts about One Point Zero here
---