A few photos

Elemiah's Atlantic Adventure
Ian Cole and Rosemary Bointon
Fri 4 Jul 2008 16:11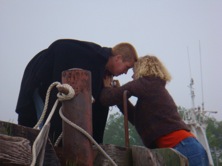 It's hard to say goodbye - Hannah and her mum.

Ian takes the boat away from the dock in Lunenburg. John and Maddie and Francis and Laurel wave goodbye from the dock.

Goodbye Lunenburg, swathed as usual in fog. Steve can just be seen on the end of the dock - how good of him to come out at such an early hour to see us off.
Under way - the sun has started to shine.

Curtis the hero, went up to the top of the mast to retrieve the topping lift whilst we were right out at sea.
Getting the angel up

Our angel, winging us on our way.
---