Pacific Crossing phase 2 - Ready to go!

Rumpelteazer Pacific Crossing
Robert Holbrook
Wed 9 Apr 2008 21:23
151:43.855W
Robert's family cruise started in Papeete on 24th March, and took in the islands of Moorea, Huahine, Raiatea, Tahaa and Bora Bora. Katharine, Tom and Janey spent a lot of time snorkelling around the coral heads, with beautiful fish as well as the occasional shark and ray swimming around them. Much fun was also had with a fake shark's fin Tom found on the seabed.
In Bora Bora, Rumpelteazer met up from time to time with the motley crew, Andy and Pippa, who were spending a week or two enjoying the pleasures of unmoving beds, clean linen and restaurant meals. Tom and Robert spent an enjoyable morning scuba diving with Pippa and Andy along the coral reef at the entrance pass of Bora Bora. They saw lemon sharks, black-tipped sharks, turtles, manta rays and spotted eagle rays in addition to brilliantly coloured fish of all sizes and brightly coloured clams and molluscs fixed to the coral heads.
There had also been much romance ashore, with Anne-Marie flying out to join Andy for an exotic two week holiday, and Peter proposing to Pippa in Rangiroa and exploring Moorea with her before flying home, an engaged man.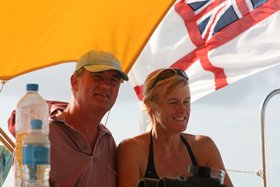 Andy and Pippa rejoined Robert on Rumpelteazer yesterday in Bora Bora and motored the 20 miles to Raiatea for a big provisioning and refuelling stop. The veg and fruit market was delightful – the slightly toothless old lady serving us seemed to give us far more fruit 'as a gratuity' than the stuff we had actually paid for. We are now laden with papayas, pineapples and huge bunches of green bananas as well as great quantities of fresh vegetables.
Early this morning when still anchored off Raiatea, we were hit by a very nasty rain storm and set off in the rain (shades of the Solent!) through the narrow passage in the lagoon and through the Pai Pai pass out into the ocean. We motor-sailed back to Bora Bora to pick up Charles and Susie Hay who will be with us for the rest of our voyage to Queensland. In Vaitape, the main (only) town on Bora Bora, we visited the Gendamerie to sign out of the French Polynesians and will shortly set sail from Bora Bora. Our plan is now to head south west in the direction of the Cook Islands.
---