Across the Equator to the Galapagos Islands

Rumpelteazer Pacific Crossing
Robert Holbrook
Tue 26 Feb 2008 04:14
089:36.664 W
Yesterday was a big day for Rumpelteazer and her intrepid crew – we crossed the Equator, at longitude 88' 39.657 West, at 15.56 our time Sunday, 24th February.
All four of us began the day as 'pollywogs' (people who have never crossed the Equator by sea) and ended it as fully paid up members of the court of King Neptune. Robert was subjected, by his crew, to the (long) list of his wrong-doings and was doused with sea-water as penance.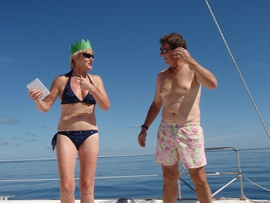 Captain Bob then transmogrified into our very own King Neptune who came up onto the foredeck to carry out the ritual of admonishing and punishing each of his three crew members in turn.
We then received written proclamations of our acceptance into King Neptune's watery kingdom and celebrated with a bottle of bubbly, all wearing our newly awarded crowns and Robert adorned with a splendid green robe and silver trident.
Yesterday, Sunday, was also another 'big fish day' with Max capturing his third very fine 18lb tuna which Andy filleted with increasingly professional nonchalance.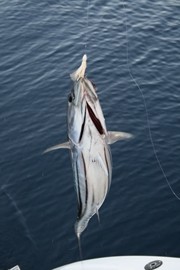 Andy was slightly thrown by the timing of this event as he had been enjoying a relaxing g&t at the time and had just put the final touches to an excellent chicken curry for last night's supper.
We saw the Galapagos islands very early this morning, Monday, around 6 miles off our port bow. We slowed down so that we would arrive in daylight and anchored in Wreck Bay, at the furthest west point of San Cristobal island at around .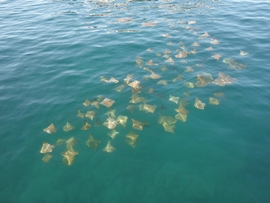 We are surrounded by sea lions, either basking on the decks of other people's yachts (not ours yet) or swimming lazily around the bay. A huge shoal of manta rays has just swum past and there are pelicans everywhere.
Robert took the dinghy ashore and brought the (very shiny-shoed) Port Captain aboard to sort out Customs formalities.
Our plan for the day was to do two things - to refuel with 200 gallons of diesel (we used a lot of fuel in the trip from Panama City) and to see what fresh veg and fruit might be available in the local shop(s). A supply ship was being unloaded in the bay when we arrived so we were hopeful.
Fuelling went fine, except that the diesel came aboard from a small boat in ten 20 gallon plastic barrels which leaked at the top, and Fernando and his sidekick inevitably trod the diesel into Rumpelteazer's hitherto immaculate deck. Fortunately the foredeck crew (Andy and Max) were later seen valiantly scrubbing away all traces of the smelly stuff.
Veg shopping was limited, but we ended up with funny looking carrots, more onions, a huge cabbage and another big tree of very green bananas. We were lucky - the Galapagos are currently very short of food.
Sadly we are not staying to do the tourist thing, as we need to set off this evening on our non-stop passage to the Marquesas – a mere 3,016 nautical miles from our current position. And there is little wind forecast for the first 500 miles. The good news is that we will have barbecued tuna fillets for supper!
---