Solid but slower progress

Rumpelteazer Pacific Crossing
Robert Holbrook
Mon 10 Mar 2008 20:31
09:38.752S
123:21.704W
We've just had our busiest day – sailing-wise – of the entire passage so far. We'd been sailing on a port reach for several days, experiencing fast-ish reaching conditions, with winds from the south east. Yesterday morning, as the winds got a bit lighter – around 13 knots - we decided to bear away and try the symmetrical spinnaker. Lots of rope-heaving and animated instructions and we were off and away. However, we were going too far north – to the right of our 'motorway' on the GPS. So after a couple of hours, down came the spinnaker and up with a goose-winged jib, set to starboard.
The gribfiles, and our increasingly good friend Mike on Kepa II (around 200 miles south east of us), told us that we should expect a wind change to the east sometime during the day. Just after tea time ( Mountain time – GMT minus 7), the big black cloud behind us turned out not to be a rain cloud. The front came through, bringing with it winds of up to 36 knots from the east. We immediately bore away as the wind increased, and after more rope-heaving and animated instructions, the main was reefed to the second reefing point and the jib much shortened. Rumpelteazer was fair rocketing along with Max and Robert sharing the helm. The GPS registered one surf of 12.8 knots.
After half an hour, once the front had gone through, we shook out the reefs and gybed onto starboard, sailing with a goose-winged jib for an hour or two. But again we were going too far north so we gybed back again onto a broad reach on port. This looked like being the last bit of our sailing activity, as we were bang on course, but during the night the wind went slightly north of east and we were going dead downwind yet again. So at 3am Robert and Pippa goose-winged the jib, and Pippa went back to bed.
We are now sailing dead downwind, in 14-18 knots of wind from just north of east at speeds of between 5.5 and 8 knots. It is sunny, again, with 50% cloud cover. The seas are remarkably calm, bearing in mind where we are, with long but gentle waves coming in from the south east. We covered 163 miles, at an average speed of 6.8 knots, in each of the last two 24 hour periods up to today.
We are around 1,300 miles from our revised waypoint off the 'Dangerous Archipelago' or the Tuamotu islands, very aware of the troubles it gave both to the Kon-Tiki raft and more recently to Gipsy Moth II. Robert doesn't want to commit to an estimated time of arrival off Rangiroa (Peter, please wait for us!) but we are hopefully still on target for Monday 17th March.
Our culinary efforts are now focused on disguising unwanted food – Andy's delicious Sunday night chicken curry made use of a lot of those curious sprouting waxy potatoes we got in Panama, and Pippa is scheming, with emailed input from Anne-Marie, to secrete some of that unloved tuna into a equally delicious tomato-based pasta bake. We still have enough frozen meat and fish (including 3 meals of tuna) to feed us for another 13 days – it's just the fresh veg and fruit which are getting harder to find.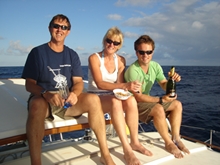 Our clocks have gone back again. We gained two hours today and are now in the Alaska time zone – GMT minus 9. Onward to the Tuamotus.
---