Trip Update - 21st December 2008 Rodney Bay, St Lucia
Nutmeg of Shoreham
Ollie Holden
Wed 24 Dec 2008 18:13


Position: 14:04:49N 60:56:98W

Firstly, an apology for the delay in writing this up. As you can imagine, it has been quite a hectic week since our arrival!

Our last day at sea was a fast one, with 20kts of wind and a fair sea. Aware that we wanted to try to arrive at a reasonably sociable hour, we put up all sail and pushed Nutmeg hard. I think this was our fastest run in the whole Transat, averaging over 6.5kts for several hours at a time, and doing over 150 miles midnight-midnight. We had to swap helmspersons every half hour as it was quite heavy to steer.

As it went dark, we could see the light looms from both St Lucia and Martinique to the North – a weird feeling that you don't see land for 3 weeks and then you see two exotic islands at once. As we approached St Lucia, there wasn't a lot of light on the Eastern side of the island – I can't imagine how difficult it must have been for Columbus when he turned up in the West Indies. We were all very excited!

Out of the blue, Eric from "Saefthinge" called us on the VHF – a very welcome welcome, and a sign that we were close! Then I rang Sarah on the satphone and gave her an ETA, and called the ARC Finish line when we were 5 miles away, as per the instructions. The last five miles were painfully slow, and we listened to the boat ahead of us, "Sophie" (a Hallberg Rassy 40) struggle to find the finish line in the dark. I had plugged the coordinates into the chartplotter but even so, we nearly sailed past Rodney Bay as all the shorelights made it difficult to work out where we were.

We dropped the pole for what seemed like the first time in a long time, and hardened up on port tack and had a nice close reach into Rodney Bay, towards the lights. We found the finish line and then suddenly, we had crossed!! We had finished!! What a feeling! A photographer boat came up and shone lights in our eyes, the ARC finish boat was congratulating us on the radio, and we were still doing 5 kts towards the beach!

After dropping sails, finding fenders and warps and then struggling to find the entrance to the lagoon, we then motored into Rodney Bay lagoon – a very surreal experience. Suddenly there were all the signs of human habitation – a Texaco sign, the smell of food cooking, and the thumping beat of reggae music. When you haven't seen anything but your own boat for 3 weeks it is an indescribable feeling to arrive into a safe harbour – and so strange to realise that you've sailed to a completely different culture, climate and geography, where everything looks, feels, smells different to that which you cast off from! That's what brings home the achievement.

We were told our berth number and turned into it with the help of an ARC official with a spotlight. There on the pontoon in the darkness was a woman with a pushchair. Was it – could it really be – it IS Sarah!! Before the boat had even stopped, I leapt off the boat and into my lovely wife's arms – a very very happy boy! Rob, Pam and Sally tied the boat up and suddenly we were all on dry land!

One very happy Daddy
We were welcomed by the St Lucia tourist authority with a big basket of fruit and some killer rum punches and stood in shock and awe as we tried to take it all in. Various people joined us on the dock for an impromptu party, including Serge and Isobel from "SeaWalk", a Jeanneau 43 that arrived a couple of hours before us, and Nicola and Jon from "Seraphim", a Moody 38 which wasn't part of the ARC, and various others. It was the oddest feeling to suddenly finish something so intense, and I think all four of us were a bit dazed.
The crew of Nutmeg arrive in St Lucia
How does it feel to have sailed across the Atlantic? It feels great! It feels like an amazing achievement, a psychologically hard sail, a long, long way. On reading back over my blogs, it seems "obvious" that it was going to take just over three weeks, but when you are out there in no wind, you just do not know what is going to happen and that uncertainty is what is stressful. Time smooths everything, and very soon it just doesn't seem to matter how many days it took, when at the time this is the most important thing in the world.
What was the high point?
Arriving, plus all those innumerable occasions in the middle of the ocean when you are steering, on your own, with a fair breeze and the moon and stars to guide you.
What was the low point?
The water tank bursting 2 hours before the start. We got our bad luck out of the way early!
What broke?
Our list of breakages was comparatively small and I was very pleased with how little went wrong. I think that we only used a couple of plasters from the first aid kit – that in itself is a success in my book. Here is what broke:
Aries self-steering (unsure if it is broken or just stiff)

Gas box came loose

Kicker mast fitting broke (again)

VHF speaker fell off

Egg timer broke!

Glass on oil lamp smashed

Saltwater tap leaked
What did we run out of?
Nothing! We arrived with about 40 litres of water left (2-3 days) and about 1/3 of our diesel capacity. We still had lovely juicy oranges, slightly soft tomatoes, onions, potatoes, cheese, plus a whole stack of tinned, canned and dried foods. I am absolutely amazed at how the fresh fruit/veg lasted – I really didn't think we would still be eating fresh food in the last week of the trip. We ate well.
Well, the morning after arriving, Rob and Pam went off to do their own thing, to make the most of the few days they had left before returning to the US, and Sally was busy sorting herself out a ride on another boat, so Sarah and the girls moved back aboard and the boat quickly turned into chaos as the girls found their old toys and books.
The next few days were a mix of celebrations, housekeeping jobs, sleeping and relaxing. Most nights there has been some kind of party going on, and the whole marina has been a sort of mutual admiration society as different boats congratulate one another. Nutmeg is moored right on the main pontoon so we have had hundreds of visitors and admirers and a lot of compliments on our boat and on our relatively fast time.
Nutmeg in Rodney Bay (girls having a bath on pontoon)
The housekeeping jobs are not quite as painful in the Caribbean as they are in Europe. A man comes and takes your laundry away and brings it back, cleaned, dried and folded, the same day; a fruit seller comes round to your boat in the most unseaworthy-looking launch, decorated with lots of flags, blowing a conch to let you know he's coming; all our rubbish from 3 weeks at sea was carted off by someone else. Incidentally, we only had 8 carrier-bags of rubbish from 22 days at sea, this was mainly tins and cans with some plastic. Any leftover food, paper and glass jars (sans lids) went over the side but nothing else.
We filled the tanks with diesel and water, and connected up to electricity – appreciating all three so much more when you have had to ration so carefully for so long. A long ocean passage is a great exercise in frugality and self-sufficiency, I would recommend it to any 1st-world consumer!
Back to being a family boat
Rodney Bay is lovely. There are bars and restaurants and a swimming pool just at the top of the pontoon, and within the lagoon there are other restaurants which have their own dinghy dock, so you can tie up pretty-much to the table leg while you have a meal. The supermarket even has it's own dinghy dock! This is how it is supposed to be.
We've spent lots of time socializing with the other boats, and it has been a real party atmosphere. We had a barbeque on the beach with our Dutch friends, and have become good friends with some of the other British boats who we talked to on the crossing, such as "Vaiva" and "Quasar IV". Everywhere you go, you meet other ARC people and everyone is so friendly. I would definitely do the ARC again if crossing the Atlantic – the camaraderie is superb.
Barbeque on Reduit beach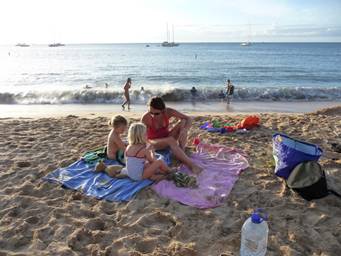 Saturday night was Prize-giving, so we all trooped off to a big hall to watch the ceremony. There were lots of prizes given out, and we picked up 2nd in our class! The winner of our class turned out to be the overall winner of the cruising division. This was the yacht "Madonna", the smallest boat in the ARC (a Beneteau 31.7) which was crewed by 3 adults & three children including an 8-month-old! Very impressive/crazy. (Norwegians – who else). After the prizegiving we saw the overall results and it turned out that we are apparently 3rd overall, out of 147 yachts in the Cruising Division! I have to say I suspect they have got their numbers wrong and my opinion is that we are in the top third, rather than third overall!
Crew of Nutmeg receiving 2nd prize
Radio Net Controllers receiving a bottle of rum each
The ARC as an event has been a great experience. The organization has been far more professional than I was expecting, and the camaraderie has been great. It's been a real contrast to the far more personal and informal camaraderie of the small group of families we've traveled down through Europe with, but when you're out on a big ocean it is nice to have something in common with almost every boat you come into contact with.
Well there ends another chapter in our little odyssey. I have been lucky enough to achieve a lifelong ambition, to sail my own boat across the Atlantic. We've now got several months to play in the Caribbean in our own yacht before working out what's next. But first – Christmas!
Wishing you all a very Merry Christmas
Ollie x
---