Passage to Tarragona

Lady Stardust Faro-Portugal to Barcelona - 2010
Paul Collister
Wed 18 Aug 2010 18:15
Monday 16th August
Got the boat ready for a departure this morning and then I prepared a huge lunch for the four of us to have in the cockpit before we left. It's been great to spend some time with Tim and Asta here.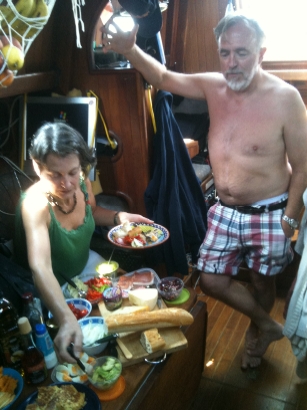 They will be going back to Ireland tomorrow so hope the storms stay away and they enjoy the rest of their stay. We will be heading into sunnier weather according to the forecast. We set off at 2 45 waved off by Tim and Asta on the pontoon and it was warm and cloudy with hardly any wind.
The trip could take between 24 – 30 hours depending on the weather and sea state. To begin with the choppy sea slowed us right down but it gradually calmed down the further out to sea we got. This will be our last overnight passage: Max and the two boys arrive on Wednesday and the rest of the journey to Barcelona will be short 3 or 4 hops. By evening our chart plotter was showing an arrival time of 3 or – perfect for our plans to get the boat ready for 3 extra people. So far, no storms, fishing boats or high waves so I've been able to have a leisurely read as we motor along (thanks again to Asta for the Rough Guide to Spain). We weren't hungry until almost so just had a sandwich and some potato tortilla to keep us going through the night watches.
---