A wet ride to Valencia

Lady Stardust Faro-Portugal to Barcelona - 2010
Paul Collister
Sat 14 Aug 2010 08:47
POS 39:27.713N 0:18.839W
Saturday 14th August
All through the night it rained and we got wet! I snatched a few hours sleep on the port bunk while Paul slept on cushions on the floor until rain found its way through leaks above him. He managed to find a dry place in the V berth but I couldn't sleep so sat in a dry corner reading the final Stieg Laarson novel with my book torch. At we decided to just go for it because the rain had stopped and it seemed calmer. It was still very dark when we left and it began to rain again but it wasn't as heavy and the wind had dropped. We knew the sea would be rough and it was, but not dangerously so and we could cope with it.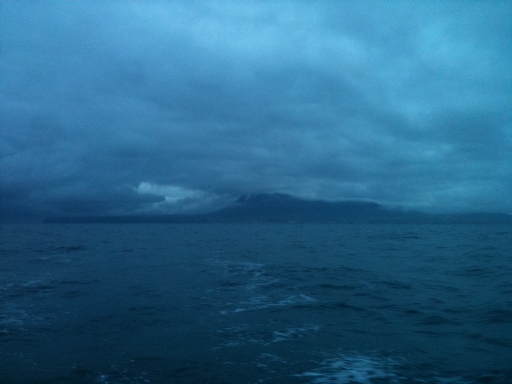 We had our wet weather gear on because it was quite cold in the cockpit. I never expected to wish I had brought a warm jumper after all the recent hot weather. It's a 9 hour passage to Valencia so we took 2 hour turns on watch and tried to catch up on sleep in between. The dark clouds began to disappear after a couple of hours and were replaced by lighter ones. Around the sun was blazing down in a clear blue sky and normal service was resumed. We put all the bedding, clothes and cushions that had got soaked out on the deck to dry in the sun and sea breeze and looked forward to meeting our friends Tim and Asta who are coming from Ireland to meet us in Valencia.
It was tricky getting into the marina because they are building a new breakwater in the area and it didn't feature on the pilot we were following. It was hard to see where the actual entrance to the marina was as we motored slowly in. A man on a passing cargo boat had to indicate through hand signals that we must turn around and pointed out where we should go but even following his directions it wasn't obvious where we needed to go. It would have been a nightmare to navigate in the dark so at least we missed having to face that by waiting until the morning to leave. The marina is nice though – large and not too crowded. Marina Real Juan Carlos used to be called the Americas Cup marina because it used to host that event and has quite a classy look to it due to this. It took a while to get the boat shipshape because of the wetness, the damp and general clutter that accumulates on passage but we were sorted by the time Tim and Asta arrived at 5 and sat in the cockpit in the sun catching up with them for a couple of hours. We have internet here so they were able to find and book a hotel online and we set off at 7 to find it in their hire car. On the journey I got a sense of the size of Valencia – it's huge (3rd largest in Spain). The streets were long and traffic-filled and not very easy to navigate. .
From the hotel we took a walk to the area by the beach - recommended for good places to eat and found a nice restaurant overlooking the sea to have dinner
---