I'le D'Yeu to Gijon

Dream On
Freddie Alderson
Thu 25 Aug 2011 15:43
Ile d'Yeu 1.08.11 to Viveiro 20.08.11
Well, we have to say Ile d'Yeu wasn't the best of times. For many reasons, some circumstantial and some to do with the place itself.
Obviously, we were waiting to get off and so the weather forecast – high winds, rain and the possibility of gales - was causing frustration. Also the local weather situation – either hot, overcast and steamy or cold, raining and very windy - meant that activities to pass the time were curtailed. However, Ile d'Yeu had some ingredients of its own to add to the mix. It seemed to be a massive fishing port, not surprisingly perhaps, with massive fishing boats about the place and we were astounded to discover at least 4 major deep water harbours alongside the yacht harbour, for local boats, fishing boats, ferries and tripper boats.
Behind the front, tiny roads, edged by dry stone walls, enclosed small houses, all of which had red tiled roofs and whose doors and windows peeked out from the very thick dry stone walls. Very quaint and picturesque.
I did find a little shop close to the port for fresh bread and croissants every day, plus other sausage delights made by a little local man, unequalled anywhere else, even by its own huge supermarket. And next to that was a little café, used by locals – always a good sign in my book – with delicious coffee, an added delight to 'the bread run'. The owner was a lovely lady, welcoming, cheerful and very pretty, whose father had been a fisherman. She had had the bar constructed in the shape of a boat, painted his colours, with his number and name on it when she had taken over 20 years before. These two establishments were to be found set apart, behind all the huge piles of nets, outbuildings and other accoutrements of a large working fishing port that surrounded the marina, and away from the main drag along the front.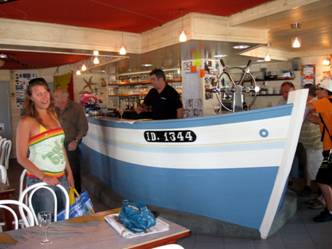 Sarah and Jim found a nice little place on the main drag, again frequented by locals, with some very interesting décor.
But the rest of the front had typical tourist cafes and shops, with hiked-up tourist prices that reached an unprecedented level of hiking-up, clearly a local skill. Some examples - we had been enthused about hiring some bikes and exploring the island's delights. Bikes were free at Lochtudy Marina and 3E a day at Gijon. That bubble burst when we found out what they cost, 11E (around £10) each per day. I'd had an idle thought of colouring my hair to pass the time – E10.99 a pop in the local supermarket for the colour whereas the identical kit cost E4.99 at Ribadeo. A typical simple menu on the sea front in Ile d'Yeu – soup, an omelette and a drink cost E19.00 (about £17.50) . A typical seafront menu at Gijon; 3 proper courses with 5 options to choose from for each course, and to include dessert, bread, water, coffee, and wine – E13-15. Speaks for itself really.
The marina seemed to be surrounded by waste ground, optimistically called a car park, and used by many to walk their dogs. As a result, it was covered in dog pooh and a walk to the showers meant watching the ground closely or you really needed that shower when you got there. Shower trips often ended in frustration anyway as we discovered the nearest shower block only opened from 8-11am and 2-8pm, entailing a further walk thru waste ground to the marina office, whose showers, theoretically open 24hrs a day, were clearly over-used and often dirty.
The marina was so crowded that despite being a cat, on a hammerhead, we had one or 2 yachts rafting up to us a lot of the time. We met some very nice people that way, but were often woken, morning and night, by trampling hoofs across our boat.
For all these delights, we were charged 40% more than the most expensive marina we had entered in Brittany (E55 as opposed to E33 per night) and more than double many others, whose charges ranged from E19-27 per night. We had to stay 9 nights and there was no reduction policy at all, whereas at L'Aberwrac'h, after 5 days, you get 2 free, and every 3rd night is free at La Rochelle. To be fair, the lady who charged me seemed as shocked as I was and gave us one night free by secretly altering our entry date.
The final indignity came when we tried to fuel up at the exit on leaving. Naturally, fuel costs were very high, the most expensive in France, said the attendant, shaking his head. The dock was an L-shape and narrow, set in to the high harbour wall dividing the fishing harbour from the yacht harbour, and next to the entrances to both. It was 10.5 m along one side and 4m along the other. When we finally moored up to the longest side, we missed any boat on the other side by inches, as they, having only 4 metres, extended way beyond the edge of the pontoon, just behind our stern. Not only that, so inadequate was it for the number of boats in the marina, yachts, waiting to get on, had to hang around the entrance, where there was already a steady stream of yachts trying to go in and out, and where, with traffic lights stopping all yachts from entering or leaving whenever a fishing boat came in, there was already a crowd of them, hovering nervously around trying to miss each other. One yacht had to raft up to us as we fuelled up just to be able to stay put, and we nearly crashed into the stern of motor boat in front as it slowed suddenly to avoid boats in front of it. Mayhem could not have been better devised.
Crowding at the fuel dock – the wall at the back Escape and freedom at last
And the final delight……. only French Visa cards could be used at the fuel pump. And I had thought Visa was international! So all foreigners, having finally negotiated all hazards and got their very expensive fuel, had to then climb up a 12 foot vertical ladder set into the harbour wall, sprint 6 or 700 yards back to the marina office, up to the top floor to pay and then back again, before they could move off and clear the dock for the next yacht. Oh, the joy! One good point – the marina provided really good shelter against all weathers.
Crossing Biscay
At last we were off, out of our confinement and out to the open sea. The weather forecast was for light winds in the right direction (N or NE) for a few days. So we felt we had our 3-day weather window we needed to cross. We were somewhat trepidacious though as we knew, whatever the forecast, Biscay can be temperamental, throwing at you all kinds of unexpected weather surprises, and better, more experienced sailors than us had been caught out and suffered all manner of breakdowns and mishaps. It was also the longest trip we would have made, out of sight of land, for a relatively inexperienced crew.
We were aiming to go straight across to Viveiro, just East of Finisterre, at least or possibly La Coruna, as Fred wanted to miss the French firing grounds in the Southeast corner of Biscay and felt there wasn't much of interest either along the Southern French or Northern Spanish coasts. I wasn't convinced about that, especially in relation to North Spain, but we certainly all wanted to get a lot further south as soon as possible. We decided on 3 hour watches for 3 of us, with Fred dozing in the saloon, on call at all times. And he was called on at all times and was quite exhausted by the time we arrived.
In fact so were we all, but the crossing was an absolute dream. The sea was smooth, with practically no wind or swell, so we were on autopilot for most of the way, and completely alone for hours on end in a vast sea lit up by an almost full moon.
Tranquillity within and tranquillity without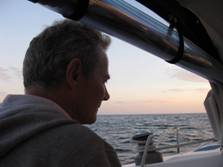 Keeping a good look-out . . . . and with a small breath of wind, optimistically hoisting the genoa
Only to have to furl it again as the breath dies. The moon rises to port just before the sun sets to starboard.
The exceptions were when we crossed the passageway of the night ferries going from Bilbao to the English channel, in both directions and going quite fast. Dodging those required the Captain's skills and again we were thankful for our new AIS, with its transceiver, telling us about other boats but also telling them about us. And also approaching the Spanish coast, there was a group of Spanish fishing boats lit up like Christmas trees, none of which had AIS, and we had to use the radar to find out which way they were going and then take a detour to avoid them.
The other thing that got the whole crew instantly out of bed and racing on deck, several times, eyes peeled, combing the sea were ………. the dolphins. A few – this was night time – were first spotted by Jim, who was on watch, gambolling alongside the boat, and everyone got up to have a look. Then it was back to bed for all (except Jim, of course) when we lost sight of them, only to race on deck some time later to Jim's cry yet again, 'Dolphins!'. In the end, a large pod jumped and played, alongside, behind, under the bow and all round the boat and accompanied us for about 5 hours. We whistled to them and they seemed to squeak back. They also turned sideways as they jumped, to have a good look at us, and that contact seemed important to them. It was totally, totally magical.
Dolphins playing a way off and under the bow
And all around the boat.
The really light winds, like only 1 or 2 knots a lot of the time, meant that we could not sail and in the end, rather than risk running out of fuel, we decided to cut the journey short and turn into Gijon, 2/3rds of the way along the North Spanish coast. We had used all the fuel in our spare cans to top up the tanks, but not all the fuel in the tanks. We decided to play safe though, and actually arrived with just under half a tank left. But thank heavens we did, because we have found the most delightful places along this coast, lovely in lots of ways and – extra bonus – so much cheaper than France.
Land Ho!
Gijon
On the morning of the third day we spotted land and by mid-morning were preparing our approach. The approach to Gijon was clear and easy, the harbour entrance and waiting pontoon also clearly marked and roomy. I was sent, crusty as I was, to register and found they wanted passports, boat papers and insurance. The insurance had been renewed during our stay in Ile d'Yeu and of course sent to our home address. Thank heavens, we had had the foresight to ask for copies to be sent to us by email, and then we had had them printed by a very helpful lady in a computer shop next to the supermarket in Ile d'Yeu, just in case of need. We did wonder about the borderless EU we were supposed to belong to but as we had the necessaries, no worries. Communication was managed with their halting English and my half-remembered Spanish, and we managed to make ourselves understood – at least I think so.
The office was in a brand new block, also housing spanking new toilets, showers and washing machine. And here, unlike France, there was security as only the marina-issued swipe card allowed access to the pontoons. This was a bit of a 2-edged sword though as, like many swipe cards, they was temperamental, frequently leaving us and other boaters locked either in or out. To our surprise, many berths were empty and we had our choice of berths, with a helpful young lady, scooting round in her dinghy to take our ropes.
Saz and Jim have a drink on the wall outside a café after their showers. On the left, the marina office is in the background, and on the right, the pontoons where our boat is. And the sun is hot, hot, hot.
The port and marina are in the oldest part of town, and a short walk found us – Jim, Saz and myself, Fred was resting on the boat - in the old part, with its atmospheric squares, and little streets, dotted with little cafés, tables outside, and lined with 5 storey buildings, each with unrelated and unique frontages(?); and delicious aromas coming from the little restaurants, that made you want to eat several meals at once. Amongst all this, were several very modern sculptures, which seem popular in many of the Spanish coastal town. Scenes from Gijon below:

The front from the other side of town Music while you walk The way into town from our pontoon, right
The strange high frontages above the tiny streets. Below a host with hoses clean the streets early every morning.
The first 2 days were absolute scorchers and we sat about stunned by such hot sunshine. During our walk, we noticed a stage and speakers being set up in one of the squares. We asked a young man standing by, and it turned out that it was fiesta-time and there was to be a free concert that night, Friday, at 9pm in the square; and then at 11, the whole caboodle would move to the beach. Though now unused to it, I remembered how in Spain, you have dinner late, around 9 and then go out on the town about 11 or 12 pm,. And of course with these lovely warm evenings and nights, it always seems a shame to waste them by going to bed. We went back to eat, with Jim and Saz very excited about the evening concert on the beach.
Fred and I stayed in and rested, and were somewhat refreshed the next morning. I say 'somewhat' advisedly though, because we could hear the concert quite clearly, and see the crowded beach and all the spotlights on the stage from the boat. Everywhere was crowded and it seemed the whole town was joining in the festivities. It was certain no-one could escape the sound of the music, loud enough to reach everywhere in the town and loud enough for the boat to reverberate to the bass. When Saz and Jim got up next morning, though they were good-humoured, we felt immediate sympathy. They had obviously had a great (and late) time and here is their story.
Saz' story
So after seeing the stage in the square with mum and finding out about the later amusements at the beach we were quite excited about a night out! Our first night out (not including meals) since we had left. We got ready and the plan was to go first to the square then to the beach later on and grab a bite to eat (tapas prob.) while we were out.
We could already hear the music had started and left the boat fully suited and booted, including my 5 inch stilettos which I had been dying to have an excuse to wear. I took my flip flops in my bag as I know the heels never stay on.
We arrived in the square and there was much hustle and bustle. There were people everywhere and the atmosphere was electric. There was a band playing with a male vocalist slightly in the style of Ricky Martin. All the locals seemed to know who they were and were singing along. We had no idea and couldn't have even pretended as almost all the songs were in Spanish.
We looked around to decide where we wanted to get a drink or if we could see anywhere to eat and both settled on a bar/ restaurant right in the square next to the stage. It was in fact a sidreria - a concept new to us. We went in to the VERY busy bar area. The bar was 3 people deep already and there were many people sitting at tables with bottles of Cider (Sidra) and pint glasses, and crates and crates of the stuff all stacked up around the edge of the room. Behind the stacked crates was the biggest barrel I have ever seen, I assumed containing more cider. Looked like it was going to be an interesting night as we imagined how it was possible all this could be drunk?
As we stood there realising we were not at all equipped with any Spanish to help us navigate the bar or get a drink we both felt a bit bewildered. I couldn't think of anything but French and with it being so busy knew we would have to be able indicate what we wanted pretty clearly and pretty fast. We started taking in or surroundings and noticed that the waiters and waitresses seemed to be serving the customers their cider in a rather peculiar fashion. There were dotted around the room what looked like very tall ashtrays or bins. The waiting staff would take a bottle of cider and a glass, hold the glass low down over the bin, and the bottle as high above their head as they could, look away, and pour a small amount of the drink into the oversized glass before handing it to the customer. We had never seen anything like it, but thought it looked like great fun.
We caught the attention of a waitress who did not speak any English but was very sweet and helpful, and asked if we could have a bottle of cider (fully expecting her to tell us to go to the bar.) She said yes and started to walk off but I called her back and asked if we could have two, as it was so busy I thought that would save us trying to ask again. No, she said. Thinking she must have misunderstood (it was so loud and busy and our communication skills were non-existent) I repeated,' dos por favor'. Again no, she replied. She returned with ONE bottle and two glasses. She opened the bottle for us and went to the bin and did the pouring thing which looked impossible. She handed us our glasses and we stood there sipping our very small amount of Cider from our pint glasses. I kept trying to ask her who we should pay for it. Should we pay her or the bar? She answered in Spanish and we were none the wiser but she certainly didn't seem to want our money. The waitress seemed to be able to keep note of which customers all the different bottles belonged to and buzzed around topping up any empty glass in sight. As we stood there sipping our scrumpy- like cider, a Spanish guy came over to us (who thankfully spoke some English) and told us we are supposed to drink the tipple in one go. Aha! He explained that they pour it like that to mix it all up and fizz it. No sooner had we finished our first glug and the waitress was back pouring us another. We tried to ask the Spanish guy if he knew who we should pay but he said he thought the first bottle was free. Result! After finishing our first bottle we realised we had still not eaten and the way they drink there cider foresaw not a completely sober night ahead.
So next we went to the bar and waited. As we waited we watched the barmen pouring the cider even more skilfully that the waitress. It seemed to be against the rules to look at what you are doing when you pour. Eventually we did get served and managed to communicate what we wanted. We got two more bottles and were shocked when the price was just 2 euro's a bottle. We were also offered some free tapas from the bar some small Spanish omelette pieces. That turned out to be our dinner. So we stood in the street for the next couple of hours trying to pour our cider and drink it in the correct manner, although I think most of it ended up on the floor.
When the stage show in the square finished we thought we would take a wander back to the boat so we could dump our coats (as it was a very warm evening) and me my heels as they had lasted all of about ten minutes before I put my flip flops on instead. Next stop beach.
We got to the beach shortly after 11. The music was very loud and there must have been 50,000 people there. There were a couple of drinks tents set up, a massive stage set up playing some sort of interesting euro pop that seemed very popular with the crowds that were spilling right onto the beach. We got ourselves a couple of Mojitos which it has to be said were not the best we've had and did our best to pretend to know the tunes as well as the locals. Mojitos down we decided to get one more drink. I tried to ask for two rum and Cokes but we ended up with two beers. The biggest beers we have ever seen. We sat on the beach and called our friends at home while we tried to finish the mighty mammoth beers. They took some drinking.
The concert ended and we started to make our way back to the boat when we remembered a bar we had seen earlier in the day called "low cost bar". This sounded good as we had very limited funds left. It was a cocktail bar in the town. So we went into "low cost bar" and found it was indeed very cheap. We ordered two Margarita's which cost 8 euro's and I don't think I have ever seen cocktails made with such care. Following them we ordered two Daiquiri's with our last 8 euro's. While we were watching the barman make our Daiquiri's we noticed he had an uncanny resemblance to Jean Claude Van Damme. This kept us highly amused for the rest of our time in the bar before we wandered back to our floating home. All in all a very good night, but we certainly felt the effects of mixing so many drinks the following day.
the end
The day after the concert on Friday, everyone rested on the boat, but we were short of basic supplies, and knowing that Sunday was always a fiesta and wondering about what might be open, I spent the whole of Saturday afternoon, during siesta, wandering around looking for a grocer or supermarket that might open either later that day or the next. Despite the tourist office's gloomy prediction that nothing would be open now till Tuesday as Monday was also Fiesta that week, I did eventually find a supermarket that would open later on Saturday evening and a bread shop (panaderia) that would open every day in the morning.
We had been going to eat out that evening, remembering and looking forward to many Spanish delicacies, but we needed to get the shopping done, and everyone was too shattered – Fred by the Biscay crossing, Saz and Jim by their night out and me by my 3-hour walk around in the hot sun and the blisters on my feet. So the meal out was put off till Sunday and we all collapsed gratefully into bed that night. Gijon did not leave us entirely to our own devices though, and this was not only due to the strains of a second beach concert wafting across the water. Some Frenchmen in the berth opposite, with the aid of 2 guitars, a harmonica and a trumpet, played a very decent medley of blues, pop, and folk-jazz. There always seems to be something unexpectedly different going on in boat-life.
The next day by about 7pm we were all refreshed, showered and prettied up, more than ready for our meal. The weather was lovely, warm and fresh and the streets began filling with people, promenading, sitting in the street cafes, on the harbour walls, on any walls, benches, tree trunks, rocks, everywhere and anywhere, older people, younger people, families with kids, all dressed up in their finery, enjoying themselves together. We ambled around mainly in the old quarter, which was mostly pedestrian, looking for a likely looking place to eat. We found to our increasing concern that many cafes were shut because it was fiesta, or full for the same reason or reserved right up, and in any case weren't cooking till around nine. Eventually, Sarah found a little café, somewhat unprepossessing but with a table free outside, no other customers but us and able to cook a bit earlier. Crucially, it offered some of the tapas we were after – sardinas a la plancha for me, calamares for the lads and a choice for Sarah – in the end, being a dedicated cheese worshipper, she chose Manchego seco with anchovies.
People start gathering mid-evening, and this is the little street our restaurant was in.
The owner, as unprepossessing as his café looked, emphatically discouraged us from choosing from the tapas menu, and insisted that we should choose from the a la carte menu, 'mas fresca' (fresher), he said. And boy, was he right! We had made a really good choice. These platas appeared on the table, in the middle, apart from our individual plates, so we could all have a taste. The sardinas were creamy deliciousness, the calamares were not the usual little rings but irregular lengths, – clearly very fresh, very lightly battered and piled high, and the cheese perfect with the anchovies, all of them some of the best we've ever tasted. We could not have asked for better, washed down with beer for them and some very nice white wine for me. The freshness of his ingredients and his superb cooking belied the unpretentiousness of himself and his establishment.
I had noticed a bookshop open near the restaurant to my surprise, and just before eating, I had checked to see if they had any English books. A whole section, I was told. So as we were getting low on books – we had brought very few with us due to their weight - we had a look after the meal and found some acceptable choices for all, except Freddie. He had a Kindle and no need of actual books, as such. We ambled back to the boat, with our booty , well satisfied. After some discussion about the next stage of our journey, we all headed bedwards at about 11 with our books, looking forward to a good read and rest.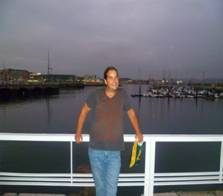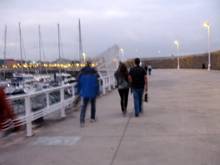 The bookshop is just behind Fred. It's 10 pm and still light. We wend our way back and climb aboard ready for bed.
Or so we thought. At around midnight, an explosion rent the air and shook the boat. It sounded like gunfire, very close. We hoped it wasn't and tried to pretend that it must be something normal and settled back down. A few minutes later, more explosions! I got up eventually to investigate as it became clear this was not normal. And to my delight and great excitement, discovered that there was a massive fireworks display, that began at midnight, taking place just above the port. The esplanade, harbour walls, streets and beaches were crammed with people, who, unbeknownst to us, had crowded in and were waiting to see the display, the grand finale to a week of fiesta. And grand it certainly was, especially from the grandstand view we had at our berth.
Freddie arose with a mock grumble, ' Good grief, doesn't this place ever let you get any sleep?', and we all stood at the back of the boat, entranced for a full half an hour by one of the best firework displays we had ever seen, beginning with an enchanting display of red hearts, - and of course we had the best view. It was so huge though, it could be seen from all round the town and out to sea. The photos will show the fireworks dwarfing the building they rose above, and it was a 5 or 6 storey building, about 800 yards long. Sleep was out of the question after that excitement, and very late to bed, we put off our departure for another day, giving us extra time to rest and recover, prepare and gather our senses again.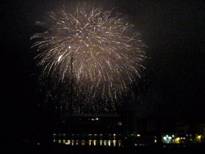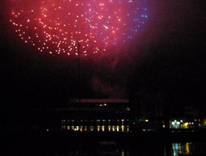 ---