From Dartmouth to Falmouth

Dream On
Freddie Alderson
Sat 24 Jul 2010 19:47
50'10.719N
5'03.202W
Tuesday 13th July, Dartmouth
We are all exhausted. We were when we left; the stress of the continual delays, the continual changes of plan, the continual effort to stay optimistic and confidant, when inside we are thinking, Oh No!, the worry about the time slipping by. But we wanted the boat to be in good order so we waited as patiently as we could till the day finally came, the workmen left and we had the boat to ourselves. The engine and GPS failure on the way to Dartmouth tested some final reserves though, the electrical system had been under the microscope to get it all working properly and to trace the cause for the GPS failure, which had occurred before we left. We'd invested so much money and time ensuring, as we thought, a safe and ocean-worthy boat, and she didn't even make it across to Dartmouth without failure. All of us tried to stay upbeat but the nervous tension caused by any breakdown is palpable and tiring. The last day in Dittisham was simply nerve-wracking, and we were so glad that no collisions occurred, thanks to the Captain's cool nerve. It was however clear that we would need to spend the rest of the week in Dartmouth, instead of the planned 2 days, and in a marina, with the obvious negative effects on both our schedule and budget.
Fred was tied to the boat and its problems for most of the week, but Sarah and I managed to have some nice exploratory trips on the back end of laundretting or shopping. We really enjoyed these; I was able to show her some of my favourite things, the Community Greenhouse, which I think is such a lovely idea;
the old fort, where we discovered some beautifully coloured flagstones and a wonderfully twisted and intriguing stone staircase, which hid its top from prying eyes;
the really old barometer on the quay before the lower ferry; Sarah's new sunscreen
and we discovered the mysterious dates set into the cobbles on the quay, but not what they signify - I always leave Dartmouth with things to explore the next time.
and the oldest building in Dartmouth, the Cherub Pub 1380.
Sarah had discovered a fishing shop where she spent sometime chatting to the owner, a renowned fisherman, notices in his shop tell us, and he also sells guitars. Of course. And just beyond we sadly see the results of a catastrophic fire that destroyed some ancient and very beautiful buildings last year. The insurance are refusing to pay restoration costs, but those I spoke to are determined to fight this, or raise the money themselves.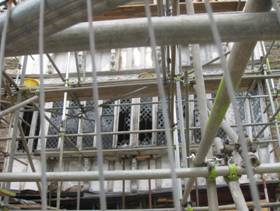 And we did have a lovely dinner out on Friday, which helped to remind us we were actually on holiday.
We went to a converted church, St Barnabas, which has its own interesting history – that I only found out about this time – and had puzzled me greatly when I first discovered it in 2004.
I'd been doing the shopping on my own and took a little wander, which led me past the church set against the steep hillside. A staircase of wide steps rose up from a high gate, and then divided into two higher up to encircle a round room with thin arched windows all round. As they divided, the staircases were covered, with a stone wall on the outside and arched openings all the way up. These then rose higher past the round room at the front to enter the main body of the church.
.
What arrested me initially, and made me wonder if I'd seen aright, was a row of colourful teapots – and I do mean teapots – that were carefully hung up along the wall at the side of the main steps, on both sides, one above each step. Some of these were planted, and some may not strictly have been teapots, but they all either were teapots or were in the genre. My eyes weren't deceiving me as the photos will show.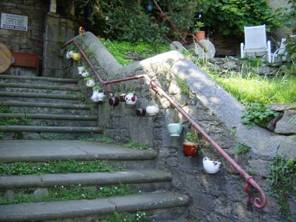 The gate was open so I went in. Halfway up the round steps was a door. I knocked and someone said to come in. I went in, and inside was a beautiful antique chest up off the floor in dark carved wood, and an older gentleman stood next to it, seeming to be in the process of restoring it. Right round the room were small shelves, holding carefully labelled jars of what appeared to be screws, bolts, nails and all sorts of fittings – it was a beautifully organised workshop. It reminded me of my father's shed and I took a couple of photos. Someone else came in, I was unsure what to do and the gentleman suggested I look upstairs. I got a slight feeling I had overstayed my welcome.
Upstairs was a beautiful old church, with beautiful stained glass windows, and graceful arches everywhere. Also everywhere were large piles of old books and magazines and newspapers, tables, a very large dolls house, every pew, every bit of floor was covered.
And nobody else was there. I could have spent many a happy hour there, it seemed to be a totally amazing Aladdin's Cave, but I was still not quite sure if I should be there or what it exactly was. The 2 people were talking when I went down and reluctant to interrupt, I determined to come back when I had more time.
I never did get back, and the next year, it was all closed up. When I asked about it at the tourist office, the lady clammed up and walked away.
I told this story to Sarah, and we decided to go and have a look the next day when we went shopping in Dartmouth. This we did, and discovered that the gentleman I saw was called Bob Trevatt who ran it as a shelter and refuge for homeless and jobless young people from 1979 to 2004, when I visited. He raised money from selling second hand books, amongst other things. What an achievement. Various local agencies became interested and involved and now flats for the homeless and unemployed young people have been built behind the church. The main body has been beautifully converted into a restaurant, which trains young unemployed people for restaurant work (see photos). What a lovely story, we thought. I knew those teapots meant something special. I hope Bob was happy with the way it turned
out
.
A new floor has been installed for the upper dining room and some stained glass windows removed to give more light and lovely river views. These have been then used elsewhere for decoration. The whole effect was cool elegance, space and light.
The food was excellent, and the service too. Well good, as you can see by our broad grins.
Back to Dream On
The new GPS arrived and was fitted on Friday and we had our boat back. Hooray! Saturday was spent getting the boat in order again, and on Sunday we were ready to go, with everything in working order. Sadly Fred was quite poorly and we had to wait a day – possibly the effect of all the shocks and stress and worry. While we help and learn, he has most of the responsibility for getting things sorted, both during the breakdowns and afterwards.
On Monday, refuelling and settling up took some time, and we left eventually at 11.15. As we go, I like to pick out the tiny houses that are right at the water's edge, hardly visible from the water and not at all from the land. The two below are really lost against the whole of the hill, I wonder whose they are and why and there's another mystery to be solved next time, or the one after that.
This one is nestled in the centre of the photo on the right.
We had hoped to perhaps make Falmouth if the sailing went well, and to duck – but only if we had to – into Plymouth, if there was a risk of arriving after dark. We were all impatient to make some progress with our trip, and Fred was very concerned to get South before the weather started deteriorating. The promised winds became no wind at all for much of the time, and so we motored against the tide for a lot of the way, with what wind there was on the nose as usual. The slow progress meant Plymouth was the only real possibility, so we anchored up in Cawsand Bay, ready for an early start. Jim was due to meet us for the last time before we left England in Falmouth, and was co-incidentally on holiday this week, waiting in Christchurch to see when he should leave to meet us. We were all so totally ready to go, and feeling so frustrated. We had boat stew and played 3 dimensional noughts and crosses, and went to bed.
We were up pretty early on Tuesday to be faced by blurry white everywhere. Fog, or low cloud, really thick and blotting out most of the village and surrounding trees, all of Plymouth and the breakwater. We watched that fog, swirling round, thinning and then thickening again, all day. At 2 pm we cancelled the berth we had booked at the marina in Falmouth. We intended to spend a couple of nights in a marina for last minute preparations, laundrette, provisioning etc. The fog slowly cleared in the early evening and we had a beautiful sunset, with the clouds on fire.
A battleship emerges from the gloom. And a submarine in a moment of clarity.
But it's mostly like this. Apart from this beautiful sunset.
Wednesday
The weather was predicted to be clear in the morning, winds 3/4 SW, 5 later, moderate, fog patches later, We decided to leave as close to sunrise as poss, to get the best of the weather, and weighed anchor at 6am. The winds were there and the sails went up, with us making a nice 5.5 – 6 knots over the ground. For a couple of hours we had a cracking sail.
Then the sea became very moderate, cross seas and very lumpy, the wind got up and went southerly, and we began to slam. We had to tack to get our offing round the headlands, as we were being blown towards each one. After another couple of hours we put the engine on and motored under main only. Well, I say, main only, but the genoa decided not to furl halfway thru being furled, so for a while it just sat there; the sea was so lumpy we didn't really want anyone on the foredeck. Fred eventually went and sorted it out. And eventually we rounded St Anthony's head to enter the Carrick Roads with great relief and some joy.
Very short-lived joy! I hardly dare say it but the worst calamity so far was about to happen.
We were just negotiating the entrance, when Fred saw the boat hook, usually fixed to the pole supporting the wind generator, move and asked Sarah to secure it. What Sarah discovered was that the whole pole, which also supported the SSB radio antenna, the foghorn, the AIS antenna, and the stern light, had jumped off its fixing and was sliding down the back. It had sheared through some wires on its trajectory. The Wind generator, now connected to nothing, began revolving at a frightening speed, emitting a high-pitched banshee wail. It was quite terrifying just being near it, and I dreaded to think of the damage it could do if it sheered off altogether. I took the wheel and Fred manhandled the pole back into place and secured it firmly back on the boat. It was impossible to stop the generator going round until we got to the marina, and the dreadful noise kept our nerves taut. We finally arrived at 3.30, completely exhausted. And, in good old Marvin's words – V E R Y D E P R E S S E D.
We had spent some time and money strengthening the pole and its supports, and on examination, it seems as if the new supports were fine but the pole had managed to detach itself. We got a quote from the marina for removing, and mending and joining and sheathing and attaching again. And our socks fell off – about a £1000.00 they said. A written quote would follow. When we got the written quote, it had gone up to £1500 and a bit. Our socks not only fell off but packed their bags and took off for safer climes. Fred rang our yard only to find the owner was away till Sat. More waiting.
We had to have a very serious discussion about the budget, where to have the boat repaired and what the consequences on the schedule of all that, and the question no-one wanted to ask, still less to answer, namely, is the schedule or budget finally compromised by this event, is this finally the 'last straw' effect that might mean cancelling the voyage? Or was it just another setback? Quite a lot depended on Charlie Rossiter, the owner of our yard and his response.
On the positive side, if we can just locate it, we are having a rest while we wait, and Sarah and Jim are having a lovely time together, off here and there, fishing, pubbing, shopping and whatnot – really on holiday, apart from the odd domestic chore.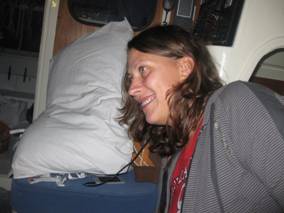 Saturday
Fred has rung Charlie, and Charlie is most sympathetic, and apologetic, and wants to do whatever he can to help. He accepts liability and will pay for the repair, although he, like Freddie, thinks the quote is outrageous. Huge sighs of relief all round and top marks and a big thank you to Charlie. And best of all, he will negotiate with the Mylor yard over the price himself, rather than leaving it to us. He is obviously much better placed as he has to price repair jobs all the time, but it's great that he is so helpful.
So we await Monday's developments, and dare we hope that the light at the end of the tunnel is what it appears to be and not that of an oncoming train? Ever the optimists, we think we might.
PS I just have to add in here the only pictures of the dolphins we passed in Lyme Bay.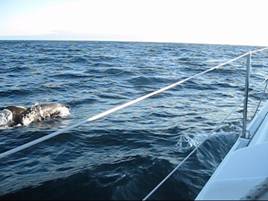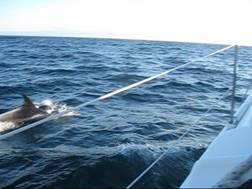 ---