Camarinas

Dream On
Freddie Alderson
Tue 11 Oct 2011 10:40
To Camarinas
So the next morning, Jim and Saz retrieve the anchor, and we leave the lovely peaceful little bay of Corme. As we voyage, we notice the mist/ fog over the land, while at sea visibility if fine. We have heard of the likelihood of this along this coast but have never seen it before, and notice the typical outlying jagged rocks again
Most often, it dissipates during early afternoon and it begins to clear as we approach Camarinas, turning into a lovely afternoon by the time we arrive.
As we had arrived so early and it was a beautiful day, Jim and Saz wanted to go to the beach and Fred buzzed them over in the dinghy. I was still not entirely well, and though eager to go and to get off the boat for a bit, couldn't quite make it.
They return later and rather than staying on the beach, have walked along and back to the town, which, contrary to their initial expectations of a modern built up town, they say seems quite pleasant . We decided to eat ashore the following night, hoping I'd feel better and explore it a bit ourselves. But for the moment we just stay quietly on the boat and enjoy the peace and quiet and the beautiful views. There were a few other boats anchored of various nationalities, including a British James Wharram catamaran (above right), which we eyeball minutely.
After picking up them again a bit later, we all have supper and go to bed, looking forward to the morning. Anchoring is great and we all love it – in our first few years' sailing we never saw the inside of a marina, nor did we ever eat onshore - but one down side is the dinghy dependence, especially when Fred is the only one who's had any experience, and we go ashore at different times for different things. I have used the dinghy, especially in our early years, but Fred loves it and is always eager to oblige. As it's quicker for him to do it, and I'm often busy elsewhere, I haven't taken it out myself for years now, something I must rectify. And the others haven't had much experience using it by themselves at all. So if we want to go ashore at different times, at the moment a marina affords the 2 couples a bit more independence.
A strong southerly wind put paid to our tranquillity. The barometer crashed downwards, it was overcast and humid and the boat rocked and rolled all night. The slamming kept me awake most of the night, Saz had a really bad night and the other two didn't do too well either. The captain decided to seek shelter in the marina and the slightly washed out crew, though disappointed at not being able to stay at anchor, weakly agreed. While reversing on the switchback that was now under us, as we broke out the anchor, the drive leg would not stay down, and our fail-safe device designed to keep it down, despite its best efforts, could not withstand the power of those waves and broke in half. This was devastating news as we really thought we had the final solution to the drive leg coming up when in reverse, but it just wasn't strong enough against the power of those waves. So off we went to the marina, now with a further headache, really hoping there would be a space.
Incidentally, when we finally got into Camarinas we saw the trees decorating the front were all tied down, so they must be used to a bit of a blow from time to time here. But for the rest of our time we had .gorgeous weather
As we got near, we could see it was quite a tiny marina, that there were only 2 pontoons, and quite short ones at that, 12 boats on each side perhaps. A short middle-aged man was waving us to a berth that was happily free and we hoped that he was acting in some sort of official capacity, rather than being a helpful sailor ready to take our ropes. He seemed unlike the usual marineros, short and roundish, middle-aged, very serious, unshaven that day and seemed a bit unsure of where he was going. Once we were on, he rushed off and seemed to understand no English. But we had our space and could relax. We also saw out first starfish, attached to the nearest pile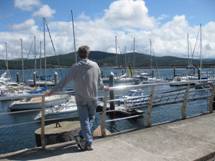 Dream On is just visible, 4th mast In on right-hand pontoon. I reflected later that the marina was tiny, and only one of its pontoons was a visitors' pontoon, the other being reserved for locals and fishermen. In the photo, boats have gone out for the day or onward on their journey, but we saw by the evening, every berth was full, apart from one or two. And the next day the same, the boats were an ever changing mix, some in, some out, out for fun, out for fishing, off to anchor or off to continue their voyages, North (Winter) and South (Sun and Joy). But there was always a berth for someone, even if on the fisherman's pontoon – for small fishermen, that is. The big fishing boats live round the corner behind another mole. And the small fishermen's pontoon is for fishermen (of any height) with small fishing boats. I idly wondered what would happen if 4 days' boats arrived all at once, but they just dribbled in, apparently randomly, and exchanged berths every day as if according to some secret instructions, like 'Come in No 9, Hearts Delight from Harwich'.
The office was a tiny wooden hut at the top of the ramp leading, where we found the gentleman who had waved us to a berth. Sometimes the door was closed, and when we knocked, there was his wife and daughter, all of them clearly enjoying passing the time together, sitting below shelves of files and whatnot. He always looked a bit disconcerted if this was the case, as if he'd been caught smoking behind the bike sheds, tho' I thought it was quite sweet. And he did look worried and confused a lot of the time, as he explained to us with no English at all about all the facilities and tried to be as helpful as he could. He concentrated so hard on his rehearsed few phrases, he missed entirely the first few times I spoke to him in Spanish, though he did try to reply - in English. He was greatly relieved when he finally noticed that Spanish was available.
Facing the pontoons was a little Club Nautico, which housed the washing machine/dryer and showers/loos; also a posh dining room, a bar, and glass walled dining room and a terrace. Most dishes was E10 or under and they were delicious – really good food! One evening, were given a free dish of amuse-bouches, and amongst the other cold fishy bits, was something we couldn't identify. All of us really loved it, sort of between meat and fish and so tasty and satisfying! We wanted more. The manager told us it was Conger Eel; it was just one he had caught himself that afternoon, and regrettably, that's all there was. What a shame, but it couldn't have been fresher – or tastier.
Coffee on the terrace after the meal. Huge prawns. Quails egg
The prawns were really huge; that is a very small dish and a small Schweppes bottle. I had 12 for E9.95, and they were so succulent and flavourful. A really excellent little restaurant. But the countryside must be alive with quails. You can buy their eggs anywhere, by the dozen in the supermarket, at a normal sort of price. This was offered to me as another amuse-bouche when I had a drink one day, with a mild green chili, luckily not sabotaged by a very hot bit, as they are known to do in these parts. Tiny coffee size saucer and tiny fried egg.
The next day, when we were due to go out to eat, and I was feeling a lot better, - and I'll just say I think I have a right to feel aggrieved with the mischievous fates here - I discovered I had been bitten during the night (we were all providing regular meals for mosquitos, apart from Fred who never got bitten once!!) on my eye, which had swollen up most disgustingly. It was decided to leave the meal till the next day most disappointingly. It was also raining, and we had no idea where to eat, not having got to know the Club Nautico at that point. I was also the one relied on to translate when out, though that was to change very soon.
The following day, the kids went out for a wander, and while I was fine, Fred began to feel poorly, due to a swelling under his arm. But he said the meal was still on. The kids came back really excited as they has got to know a really nice guy at a café, who had a bar in the town and they wanted to go back that night. So when the time came, they got ready, and Fred got worse. He decided he couldn't go, which meant I couldn't go as he really was quite poorly. He would need feeding, and should any untoward eruptions take place, he would need my help to dress them. He was really poorly, poor lad and went to bed. I really did feel gutted, and really quite unforgiving regarding the mischievous fates, but the kids went, making sure I knew I could come and join in any time I wanted.
Off they went, only to return half-way through the evening, to get above all – the Spanish- for- Cruisers very excellent Spanish language book I had bought with me to help the others find their way, to remind me and to find words for awkward boat bits. (It does all 3, clearly and helpfully, great user interface, so easy to navigate your way around to find what you want.) They all really wanted to communicate in the café-bar they'd gone to and I think felt a bit linguistically challenged. But with help from the book, I understand much communication took place
And that was linguistically that! From then on I wasn't allowed to help with Spanish, and the Spanish for Cruisers book and my Spanish dictionary, were the most read books on the boat – and when I say read, I mean pored over! Their confidence and language abilities totally changed in the 4 or 5 days they spent with their friends, and Sarah managed to write a letter to them in Spanish to thank them for their hospitality, with very few errors. Now they go off to do the shopping for all manner of stuff and negotiate it all quite successfully. And here is their story - - - -
Sarah's Camarinas Story
We spent our first night at anchor off 2 very pretty beaches. Jim and I went to explore the local vicinity and see what was about. At first we weren't very impressed, as it struck us as just another town with another marina and all the usual stuff. But we did have fun using the handheld VHF radio to call Dad to collect us.
The first night we spent in the marina Jim and I went for a wander in the back streets and didn't find very much. The whole place was really quiet. Hardly anyone around and everything seemed to be closing very early.
The second day we had been for a walk and got stuck in some torrential rain and decided to take refuge in a bar. We had a beer and were given some very yummy tapas of Serrano ham on very nice bread. There were a few locals in the bar and a young couple sitting at another table. They borrowed an umbrella from the bar to get there car from about 100 metres away because the rain was so heavy, oh sunny holiday times.
We had thought that we might eat dinner out that night so me and Jim had looked for a place to eat. However Dad wasn't well so in the end Mum and Dad stayed on the boat and we went out on our own.
We had seen a hotel with a restaurant on our first day exploring that we thought looked good so headed toward there. Two doors down was a little quite ramshackle looking bar that we had also previously spotted. It looked cosy and welcoming, but also quite bodged together which made it all the more interesting. We decided to stop in for a drink before our meal.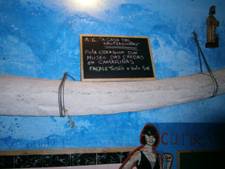 The barman, we realised, was half of the young couple from the bar we had been to earlier when we got stuck in the rain. His name was Rodrigo and he was really nice. There was no one else in the bar, but lots to look at, as we noticed whale bones and teeth on display among other treasures and trinkets. Rodrigo explained to us that he was going to open a museum about the sea.
Rodrigo spoke Spanish, Galician and a little English, and we spoke virtually no Spanish at all. So we struggled with conversation, Rodrigo was very patient and we think, we understood quite a lot. We noticed him adding some white berries to a bottle of grappa. Rodrigo explained to us the berries are called Caraminas. About 24 hours after he adds them to the grappa the drink turns pink. Then after one year it's ready to drink. We were given some of the berries to try, then he explained about lots of his special food items and potions he had. Special sweet onions that don't make you cry when you cut them, giant lemons, physallis ets...
I reserved a table at the restaurant and got the phrase book. After a short time Rodrigo's friend Julian arrived with his guitar. Julian spoke no English. Somehow, in spite of all the language barriers we managed to have a really good laugh. We had completely lost track of time when we realised we had missed our reservation and it was far too late to start a meal in a restaurant. But after not long Rodrigo told us another of his friends was coming soon, Anna, who spoke a bit more English. When she arrived, we saw Anna was the other half of the young couple. Anna made us all pasta with all of Rodrigo's special garlic, and Oregano he picked and dried, and special little sweet tomatoes. It was delicious and well needed.
We stayed up in the bar until about 4am, Julian playing his guitar, with Jim and me singing. It was great fun. We walked back to the boat in more heavy rain. Just before we left Rodrigo gave us a bag full of treats like the oregano, and garlic and lemons he had proudly showed us earlier.
The next day we got up and went back to the bar. We thought we had arranged to meet them all there at 12 but weren't sure how much we had translated right. The bar was shut and locked, but I could see my coat and phrase book where I left them the night before. As we were writing a note to Rodrigo, Julian appeared with his dog Otto who we hadn't met before, and asked us if we would like to go for coffee. We happily accepted and went. Again, we found ourselves struggling with the language difficulties. We were a little worse for wear too, which didn't help.
Julian was very surprised we didn't want breakfast. Then after our coffee, he motioned for us to follow him to his car. We did. Then we got in and still weren't really sure what was happening, although he did ask us if we had GPS on our phones? We set off in his car and after picking Anna up, worked out that they had invited us to go to Sigras, a place near La Coruna, to visit their Finnish friends.
So, this was all a bit of an unexpected adventure.
Around 2 hours later, after much confusion, several phone calls to their friends we arrived safely. They were Tuuli, and Jouni. Also very friendly. As well as Finnish, they both spoke fluent Spanish and English, so occasionally as we sat there looking dazed and confused they would let us in on what the conversation was about. Their house was beautiful and they had 4 lovely dogs, so with Otto that made quite a lot of entertainment. We sat in their garden for a couple of hours, while all feeling a bit fragile, then to our relief (having not had breakfast) we all left to go for lunch.
We had lots of lovely tapas for our lunch then went for coffee afterwards. There had been talk of a Fiesta in Sigras and Jouni's band was playing, but after considering all staying the night and returning the following day, decided we were all too tired. We returned to Tuuli and Jouni's house for a while, then Julian drove Anna, Jim and I back to the bar in Camarinas, but stopping on the way to show us an old stately home that has been turned into a museum. We had had a brilliant day!!!
Over the next few days we regularly met up with all our new friends and had lots of fun and laughs. One night Julian drove us to his "special place" which turned out to be a very impressive lighthouse. We climbed over a wall and perched on the rocks underneath the huge beam of light swinging around over our heads. And I swear we have never seen so many stars! It looked as though someone had splashed white paint through the dark night sky.
As they all live elsewhere but visit Camarinas each year in August for the fiestas (of which there are many) we agreed to do our best to meet them all there next year! Can't wait! We think we made some really good friends and have been staying in touch. Ahhhh.
Some Camarinas views
The Club Nautico, at the top of the pontoon; its terrace looking across the bay; the view from its terrace – Dream On on the right.
The view from our boat. The lovely old fishing harbour. Designed for comfort.
Immaculately kept residential streets, abutting old but very attractive derelicts.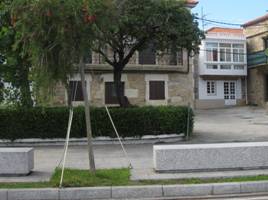 And tied down trees – every single one.
On Sunday, I woke up very early to a beautiful sunrise. I had been used to doing that at home in Dittisham, and enjoying the total peace and stillness or pre-dawn and post -dawn times of day, with not another thing stirring. So I was very surprised to turn round and notice various heads popping out of hatches and see several yachts getting ready for the off. I was even more surprised to see the amount of people at the normally fairly quiet Club Nautico, who later all went down to their boats and set off. Note the low cloud/fog cuddling the land.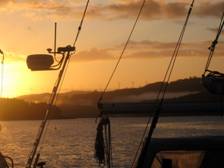 It was some sort of fishing competition, and the winners were announced later that day. Also later when we got some light rain, a magnificent rainbow. But I'd never seen one that shape before, so narrow and with such a high peak, too high to be able to get the whole thing in one picture. And with a secondary reflection.
By Sunday evening, Saz and Jim's friends had mostly gone as it was the end of the season for them, and the café was closed. So on Monday, we got the boat together and supplies in, and with quite sad hearts, set off early on Tuesday for the next port of call, Portosin. While we paid, we were delighted to find it was only E16 a night. I told the marinero's wife how much we'd enjoyed it and how friendly and kind the people had been. She positively glowed with pride and blessed us 3 times for our voyage. Then it was goodbye to lovely Camarinas.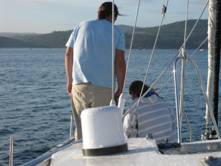 To Portosin
The weather was fine, though as many other sailors were finding, little wind and a lot of motoring. But at 10.30, we found that we were really blessed and had the best dolphin experience ever. And because it was daylight this time, we could really see them properly (and get pics). We see them coming from far away, making straight for us.
Closer and closer
And then more and more and then suddenly they're under the boat.
And all around it.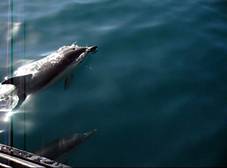 Sorry about all these dolphins pics but they are so amazing and so amazing to be part of it.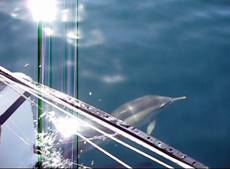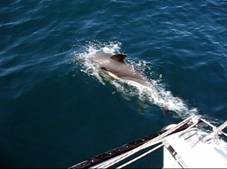 We all try to reach them ---------------------this is Sarah.
We all want to play with them especially as we can see they are having such a great time. We can also hear little cirruping and whistling noises that they are making.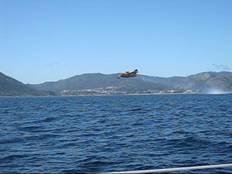 We also spot a fire-fighting plane, practising. It has just emptied the load of water it had just picked up. And on to Portosin.
---