In Mylor Yacht Harbour - Falmouth

Dream On
Freddie Alderson
Thu 29 Jul 2010 09:50
50:10.7N
5:3.2W
Mylor – Thursday 29th July
Sunday
This was a lovely day. The weather was lovely anyway, which was nice. But, more importantly, we had free time that was really free, and could really relax. Nothing was going to be done till Monday by anyone so we kind of felt off duty in a way not possible when waiting for phone calls or workmen. We were past the point of making plans anymore because life is not listening and has other things in mind. And of course, we felt so much better knowing that Charlie was taking care of the repairs.
Sarah and Jim were out all day, mostly fishing, at Pendennis Point. And we pottered and lazed and read mostly. I had 2 short walks – Mylor is very small, and unless you fancy a long walk, it's quite far away from everything else. We eventually found out that you can send post via the yard office, but provisions (apart a very few basics in the local café, which shuts at 4pm), cash points, chemists etc are a taxi or dinghy ride away. This makes it very charming and peaceful, and we did enjoy that. But a bit difficult when you arrive in need. We were lucky that Jim had his car, so Sarah and Jim usually shopped while they were out. There are nonetheless, an amazing amount of boats here, though you don't really feel crowded. You only really discover this if you walk to some nearby high point.
Spaghettibog for dins and lovely Italian chocolates Sarah and Jim bought from the International food market in Truro.
Monday
Back to waiting in suspension as telephone traffic flowed between Charlie and the Yard and us, their engineers/ electricians and his, and whether he should send his down etc. Very damp grey start and we busied ourselves with chores to distract ourselves from waiting to hear our fate, cleaning the boat, showering, washing etc. At 2.45 we are still waiting to hear, though we have found out that everyone has talked to everyone. Then at 3.10 2 engineers come to the boat – it's all go for the repairs.
By now of course, it's too late to start, but they size up the job, decide what needs to be done and say they'll be back at 9am. So next day, all up early, everything cleared inside and out ready for action. Sarah's cabin will be needed by the boys, which is a shame as they both look as if they need a good rest. We reckon it will take no more than half an hour, despite the quote of '2 men for half a day', to get the wind generator support poles off the boat, and then we are going to Falmouth in the dinghy to see it and shop and S&J are going to chill on the boat. 10am, 11am 12am pass - nothing!
We find out that Mark, the manager, is in Falmouth dealing with an emergency, and his workman has called in sick. Mark is to ring us when he gets back. To lift our spirits, we eschew our usual practice of sandwiches on board and go out for lunch as we've heard the restaurant is doing whitebait. And it was really delicious, lovely salad dressing and dip. On the way back, we meet Mark, his trolley loaded with his tools, off to work – but on another boat! And he hadn't rung us! However, he reassures us someone will be down within the hour.
Sure enough, 2 men + apprentice arrived at 3.40, and were carrying away the pole and its supports off down the pontoon within 15 minutes. Fred had loosened up all the nuts before they came to save time. Even so, it was as simple a job as we and Charlie had expected.
It was now too late for our foolishly made plans, so we postponed them till the next day, expecting that we may hear back from the yard possibly the next day, more likely, the day after. At this point we did not yet know if the wind generator still worked, or what further complications may arise.
Next day, up quite early, showers, hair washes etc ready to catch the ebb down to Falmouth, for lunch and S&J for their day with the boat to themselves. They went off to pay for parking and Fred went to let the yard know, check on progress and say he would pop in on his return.
We all got what turned out, surprisingly, to be quite a shock. The yard had said it had gone well, the generator was fine and they would be bringing it back at lunchtime. Well, Fred needed to be there for that and Sarah would need to clear her cabin again, but also 'leaving for our trip', so long beyond our grasp, suddenly hove into view and demanded immediate attention. Long lists of jobs suddenly filled our brains, already addled by trying to cope with all these new versions of today – and believe it or not, we groaned, inwardly and outwardly. So that meant no Falmouth, no shopping; but it most definitely was our turn, and things we needed to get before our apparently now imminent departure from England. We told S&J on their return, and they were visibly shocked. Far from having a lovely day together, they were going to have to think about some very serious goodbyes.
We decided we would take a taxi to the huge Asda about 5 miles away, do the shopping quickly, and get back before the lads came, leaving S&J to come to terms with their new reality. Complications arose through a detour to the only chemist in Penryn, who could not dispense between 1 & 2, which was when we would be on our back from Asda to pick it up.
It could be prepared but they couldn't hand it over. Small matters. Jim hopefully would be able to go back later.
The lads were already there on our return and while Fred helped the lads, we tried to get to grips with internal jobs. At this point we still lacked confidence that all would go smoothly, perhaps unsurprisingly, lending uncertainty about how seriously we should be preparing. We did tackle the aft starboard cabin, the storeroom, which had been stuffed with all sorts of extra things, so that getting anything out was a real pain, and possibly hazardous to health, and it became known as the 'Black Hole.
Out it all came, and was totally repacked; weather was checked in several ways, the winds, weather and seas seemed to be favourable, with Thursday better than Friday (preferred by some) for departure. It began to be more real, and our actions more directed. The lads were progressing well, with no hitches and spirits began to lift. Sarah was simultaneously making gammon,, egg and chips, freshly made of course, for dinner, Fred beginning the passage plan having checked all instruments, out board, secured the dinghy, with Gail continuing with stowage aft, charging instruments, checking emails and trying to update the log. By 10.30 most important things had been done, and we went to bed. We had more minor things to finish but departure time being 3pm, we have time tomorrow. Went and had a Cornish ice cream and a look round Mylor church in defiance and for relief. It dates from 1100, was really sweet and interesting, very good pamphlet written by the local vicar, who will sadly probably be the last one. Did us all good.
Dream On at Mylor loadsa boats
Many of these I think old fishing boats for Phone box outside Mylor church
Sale – sentinels to the past.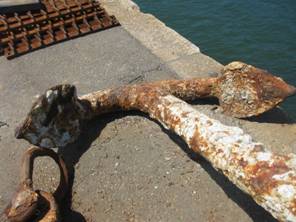 Lovely old anchor on the quay
This is probably last missive for a while; next one could be from foreign parts, if our present plans have a go at becoming reality.
….. To infinity and beyond!
---