Viviero to Corme

Dream On
Freddie Alderson
Sat 1 Oct 2011 18:29
Viveiro to Corme 20th to 28th August
Viveiro – where we had the lovely fish dinner – turned out to be a sweet little place, with friendly people and quite good facilities. The marina was well into the bay sheltered behind a big mole. To its right a huge expanse of water led up to some lovely beaches and the fishing port was on the left as you enter the bay, a good distance from anything else, so nobody interfered with or upset anyone else.
Well-protected marina, near all the facilities and well away from the fishing boats
We were pleased to find lots of spaces in the marina, and a cheerful marinero eagerly directed us to one of the an empty berths. What was special about that particular one we couldn't see, but as he ran to reach the pontoon before we did to take our lines, we went for it. This particular marinero (usually young lads who rush about in ribs organising incoming yachts) also seemed to run the office, Capitania de Puerto and everything else and was very proud of it all. The offices, as with many new marinas, were all lodged in portacabins and they didn't yet have clothes washing facilities, but he very proudly told us about the ladies, who come and take your washing and return it the next day all done. Having spent mucho hours in laundrettes, at some cost, especially in France and especially on the Ile de Pooh, that sounded so attractive.
As it turns out, we weren't to stay long enough to take advantage of it. We had been told by the young girl who manned the office in halting English it was Fiesta that week, so we thought we might stay, but it turned out that Saturday, the day we arrived was in fact the last day of it. We went for a walk in the town in the early evening and found yet again a large square, taken over for music, with a temporary stage and lots of seating set up. It was suffocatingly hot, so we all had an ice-cream and sat down to watch 2 ladies rehearsing various Abba numbers for the evening concert.
By the time evening came, we were too pooped to venture out again, though we saw other sailors, some of whom stopped to admire our Gemgem, going off up to the fiesta at midnight, as is the Spanish way. We planned to go up the next day, as it was fiesta again as it was Sunday. But on the morrow, we had noticed an absence of the fireworks, that mark a fiesta day and are strangely set off from the morning onwards (!!). So Saz and I went to investigate. Music was going on in the square, but it looked like a quartet in evening dress – possibly not quite what we had expected, and our marinero confirmed that the fiesta had in fact finished the day before. We did explore the little town a bit while we were out and discovered some delightful bits.
And so often we find beautifully kept buildings right next to derelicts, in superb locations. Wouldn't Kirsty love it?
So we decided to press on the next day, after shopping the morning (me and Saz) and getting the boat ready (Jim and Fred). The supermarket was just round the corner and a covered market opposite, so no stress. We got empenadas from the covered market – a sort of a flat pie, filled with whatever you fancied. They make them all sizes, and cut you off whatever size bit you want. This lady, who never stopped smiling and cheered up everyone waiting in the queue, had made a huge one. From the huge supermarket we also bought some calamares, wanting to try and repeat the delicious ones we'd had in Gijon. Big mistake! – but more of that later.
Big Empenadas! And off we go again, passing the usual little bronze statues, often of certain saints who protect sailors. They also charged us as a 10 metre monohull, instead of a 10.5 metre catamaran.
Carino Carino wasn't the most delightful experience, though through no fault of its own; it was very sweet and pictureskew. It didn't help that it was pouring with rain. According to the pilot book there was a new pontoon for yachts. So in we went, and though crowded with fishing boats, we managed to find a space just big enough for us. Off we went down the pontoon in the rain with the boat papers to find the harbour office, and passing some men, coming in as we went out, asked them where it was as we could see no signs for it.
They were very friendly, and full of smiles and encouragement, but I was having difficulty understanding them. At first blaming my rusty Spanish, after much repetition and much smiling, I worked out that they were actually speaking a local dialect that sounded nothing like Spanish. After a lot more discussion, if not exactly communication, we worked out, we thought, that there was no harbour office, only the Lonja, or fish market. We had a feeling that wouldn't quite do, and then, after more excitable non-communication, we understood they were trying to say that once off the pontoon and out of the gate, we would not be able to get back in without passes, and they showed all of theirs. We walked slowly back to the boat with them, discussing our situation further with many smiles, as we stood by our boat in the pouring rain, quite perplexed. At the last minute, I thought I'd just check we were ok where we were, when they assured us emphatically, that the berth belonged to a fisherman, who would probably not be pleased if we were there when he came back in – with many more smiles. So off we went to anchor, and that's when we cooked the calamares, all looking forward to a delicious dinner.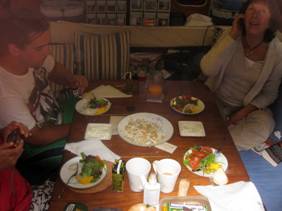 However, they were off. They certainly didn't taste right or in any way delicious, and Saz was suspicious as soon as she unpacked them, though they had been in the fridge since being purchased that morning. Perhaps the lesson is not to buy them from a supermarket. Feeling slightly sick, we spent a pleasant, if moist, night, and in the morning off we went again.
Cedeira A fairly uneventful journey there, and again we found a lovely little bay. We anchored in the centre, (which meant we were quite far from the shore and no-one could be bothered to dinghy ashore), - until the tide went out. It revealed a nasty line of rocks a bit too close, so we moved and having settled in, and anchored, another big boat anchored, the Captain considered, much too close to us. We kept an eye on him as we couldn't be bothered to move again. We'd noticed that the sort of rocks round this Western coast were much more like the ones in Northern France, jagged and spiteful-looking, rather than the more rounded ones you get off the Northern coast of Spain.
Saz then set to, and, very ambitiously I felt, made brownies. Ambitious in the sense of finding the energy, not in the department of skills cos she is a well-skilled sous-chef. They were everything you might hope for in a brownie and in fact rarely get.
We oldies then hunkered down and the young ones went out to fish. And what success! Both of them!
Jim caught a Red Gurnard, which was really pretty. And then he caught another one, and they were the first two he had ever caught. Then Jim caught a mullet, which is the first time he has ever caught a mullet. And then Saz caught a mullet – her first ever. And then she caught a suspected Boga. Joy all round, as the pics show.
Sada We left at 9 the next morning and after 7 hours arrived at Sada. Not a great journey; there were nasty choppy seas and gusty winds, the crew suffering a bit but nevertheless doing what had to be done. We were pleased to see on arriving at Sada that there were free berths. We had avoided Coruna as it was such a big place, with a smaller amount of berths and we thought it would be more crowded. Off we went to the Capitania with our papers, to be greeted by a very friendly lady, who rushed out to announce that she spoke no French. This did not worry us overly especially as she did speak some English. She undercharged us in the same way Viveiro had – 10 metres and not wide enough for catamaran surcharge , then sat us down with the map of the town, showed us where everything was and insisted there was nothing in Sada of any interest, we should go to La Coruna or Betanzos, which were full of history. We had only intended to stay one night, so we weren't too bothered, though in the end we were kept there by high winds for four days. I was laid low by an infection resulting from stabbing myself in the gum with a dental cleaning brush when the boat rocked suddenly. It was quite bad, made me feel wretched apart from the oral pain and, in the end, I couldn't shake it off for 3 and a half weeks. So there were no trips out for me
Sada was quite uninspiring, as the lady had said, a modern town, with nothing there apart from a large collection of banks and apartments. Despite this, Jim and Saz could find not one bank that would change any money. Most peculiar. It had quite a nice beach that Sarah and Jim got quite burnt on, and it did have an exchange library, where we managed to get 5 new books to read.
But the worst thing was the noise. Despite being new, and way down the Ria de Coruna, it was situated so that the swell came right in and shook all the pontoons against each other, ensuring unending squeaking and groaning and creaking from them day and night. Some sailors we met in Baiona told us they had stayed at La Coruna at about the same time, and has suffered the same problem. As soon as we could, we headed off, hopefully to round Finisterre.
.
Saz and Jim ready the boat while we go and settle up.
Off into the wild blue yonder again, slightly unnerved by this huge monster; was it moving or not? If so where?
We were heading for Camarinas, but a very nasty sea got up again, cross seas with a big swell, the remnants of the last storm probably, and the winds were gusting unexpectedly and fiercely. We had left at 10 and had had enough by 5 pm, when we turned into a sweet little anchorage called Corme, and were anchored up by 18.55 pm
From a roiling sea, and some slightly uncomfortable deck work to the cool clear waters of Corme. A decent night's sleep was had by all, which was needed to recover from the tiring journey of the day before, and we set off quite late the next morning (10.55am) for the last leg to Camarinas. We were anchored up there by 15.30 pm, in a lovely little bay with a few other boats of mixed nationalities and a lovely beach nearby. Camarinas became one of our favourite places, and deserves a section all of its own.
---