60NM to go to Lizard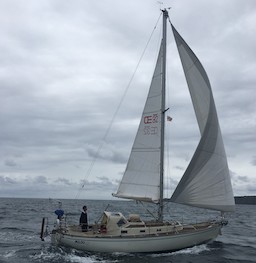 Roryhamilton
Fri 28 Jun 2019 05:35
28th Jun 0630 BST 60NM to go to Lizard

Heading south to clear the Scilly TSS (according to race rules not allowed to enter) , big call on whether to go south or to go between separation scheme and Scillies. Sea Horse decided to change her mind and go inside after a slight wind shift. We were tempted to do same but are holding south and hope to turn towards Lizard in 1 hour. The duel with Fair Isle continued through the gale yesterday; we've been close for days now. She has suddenly slowed down so we're wondering if something is wrong?

The forecast was totally wrong yesterday and we heard a gale warning from Falmouth coast guard. Our forecast said wind easterly at 15 knots but we had 30 knots and big seas - the biggest I've been in in a small boat anyway. We tried to strike balance between keeping safe and making progress but down below is absolute carnage. The table ripped out of it's screw securing when we banged into a wave while Mark was sleeping but luckily the well stocked bar didn't smash on to him. On closer inspection it looks like the table has come loose before - we managed to re secure it around 0200 this morning; the last thing we wanted was a huge heavy table smashing around in a gale. Sadly the leaks that were supposedly fixed weren't so we've been taping kitchen roll to windows to try and keep dry.

We decided to do 2 hours each overnight and this morning the wind abated but sadly still not in a great direction.

We managed a bacon and sausage roll yesterday morning but no hot food or drinks for rest of the day - was just too rough. When Mark gets up I think we'll be able to make something.

It's touch and go whether we make Falmouth before last orders but we're keeping our fingers crossed. Lovely message from Rita (our amazing boat buddy) yesterday who will welcome us at the finish.
---