The sun is shining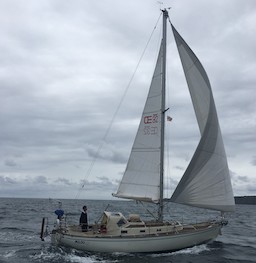 Roryhamilton
Sun 23 Jun 2019 14:49
23rd July 1545BST 565NM to go to Lizard

Weather abated and sun out :-) Great not to be thrown around like in a washing machine so we made real coffee this morning. Last night I spilt hot coffee on arm in heavy swell but luckily quick application of could water and cling film treatment ( Thanks Mark) resulted in only slight stinging this morning and no blisters.

Washed on deck today so feeling much fresher and airing the boat out. Chopped vegetables to will cook a sausage casserole with the Portuguese sausages for dinner this evening.

Gentle breeze but with spinnaker and full main set were making around 6 knots almost in the direction we want to go.

Looking forward to seeing families in Falmouth and a good Cornish beer.
---