Another competitor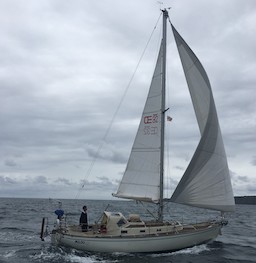 Roryhamilton
Sat 22 Jun 2019 16:23
JUN 22nd 1715BST 700NM to go to Lizard

We saw another competitor today. Saphir (class 3) was very close. Her AIS wasn't working so we were quite surprised to see another yacht so close with our warning. She called his on VHF and Mark had a chat. We gybed away and this afternoon have been using Mark's Spinnaker pole to pole out the headsail to try and make most of this following wind - a bit strong for spinnaker.

Just about to do weather and iridium access: the joy of modern technology. Pizzas for dinner tonight since motion not exactly conducive to chopping veg!
---