Great weekend in Kleve with Dorise and Malaika Hettlich

Honey Mooney HB-DVN
Flemming and Angela PEDERSEN
Sun 8 Jul 2007 09:00
We already planned this visit to Kleve in November last year to talk about Africa and South America flying, but it got postponed. Then in February this year, Frank's tragic accident happened.
Dorise came to fetch us up at Weeze airport and drove us to the beautiful Hettlich house in Kleve. This was all the work of Frank, who not only was a dentist and an aviator of worldwide reputation, but also a skilled architect who designed the house and managed the construction 25 years ago. While visiting the house, we discovered that the Hettlich daughters Claudia and Bianca are both very talented artists, and we are very much looking forward to meeting them in South Africa next year.





The Hettlich home - beautifully designed by Frank



After a tour of the house Saturday morning, we discussed our forthcoming Africa trip by Honey Mooney with Dorise, who gave us lots of tips and advice. We also refreshed precious memories of our flying in South America.
At lunch time Frank and Dorise's daughter Malaika (whom we had already met in Vienna at the 2001 Earthrounders meeting) came from Düsseldorf and we drove to the nearby little town of Kalkar, where Dorise grew up and had a light lunch at a restaurant.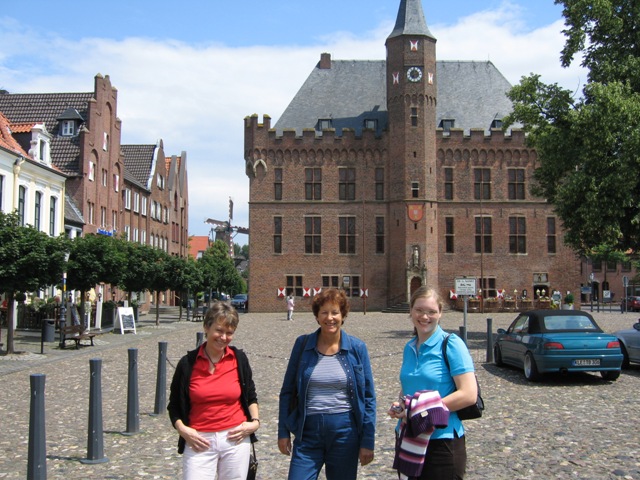 Dorise, Angela and Malika at the town hall square in Kalkar



In the afternoon, we visited the Hettlich dentist clinic in Kleve. The building was superbly designed by Frank. Malaika is currently busy with her dentist studies in Düsseldorf, which she will finish later this year, after which she will take over her father's practice.





Malaika at work in the Hettlich clinic



We then discovered, that on this very special date [07/07/07] it was Malaika's 26th birthday and we celebrated it in the evening together with Dorise's mother Oma as well as a Swiss girl Claire, who grew up in Zermatt. Claire even knew Swiss Earthrounder Stephan PERREN's brother, as she had worked in his pharmacy in Zermatt.





Wallabies having dinner in the Hettlich garden



Their 10'000 m2 garden is surrounded by a high fence, and populated by 18 wallabies (small kangaroos)! They bought 3 of them many years ago and the wallaby family has been growing ever since.
Thanks to Dorise and Malaika for a very special weekend. The whole family is enthusiastic about organising the next Earthrounder meeting in Capetown next year in memory of Frank. We are very much looking forward to that event. For details, see the 'Gommi' web site (..and perhaps give a donation to 'Frank's Heaven') or the Earthrounders web site.



---