Pauline's take on Aasiaat GUX High School Graduation

A Greenland Story Blog
Jamie Young
Mon 1 Jul 2019 17:12
AASIAAT GRADUATION
Current Position:
69:13:27N 051:50:62W
Well were in Aasiaat for the past four days meeting all sort of interesting people, including an Irish man, David Penny originally from Dublin who has been teaching here for the past 15 years. Having initially taking the job for a year as he was looking for a life less ordinary, David has fallen in love with this place and he has no intentions of leaving the island any day soon. Even if he wanted too I don't think his students, who hold him in the highest regard, would allow him to leave.
Aasiaat Harbour
Typical house in Aasiaat
Having spent just four days here we are already adjusting to the relaxed pace of life on the island. Plenty fresh air, spectacular scenery, incredibly friendly people and a pace of life which is so often hard to find these days, this is a special place. Greenland has seen major investment in education over the past few years and the island boast a very modern school complete with multi-media and modern classrooms. They even have their own bouldering wall although this has seen limited use in recent times due a shortage of suitably qualified teachers who can instruct this student activity.
Aasiaat Island-Disko Bay, Greenland
Tuesday last was a day of major celebrations on the island. We were honoured to attend the school graduation with over 100 students ranging in age from 17 to 55yrs receiving their high school graduation certificates (equivalent to the Irish Leaving certificate). Students from the entire west coast of Greenland come to Aasiaat for their three years of education and overcome many obstacles along the way. They study in Danish rather than their first language Greenlandic as the only available teachers all come from Denmark. However, many of the young graduates we spoke to had aspirations of going to teacher training college in the capital Nuuk, so in years to come the option of education through Greenlandic seems very realistic. The graduation is a very colourful affair where all the students wear native dress and their achievement are celebrated by the entire island community who line the streets as the student's parade through the town hand in hand singing as they go, providing quite the spectacle for us onlookers. The pride in the community is palpable and rightly so as many of the students are the first in their family to graduate, having come from native hunting families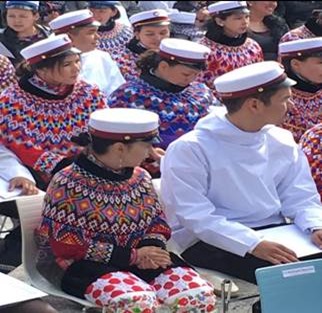 Graduates in Traditional Greenlandic Dress
Education is increasingly important in Greenland with many young people opting for a lifestyle very different from their parents, who are predominately hunters and fishermen. One in three young people who avail of free education in Denmark opt not to return to Greenland, as the employment opportunities are seen to be limited outside the capital Nuuk. Modern Greenland is changing, and wherever the young people leaving Greenland may eventually settle, they will bring with them their strong sense of culture which can only serve to promote all that is good about this unique and special place.
Aasiaat High School Graduation
---