Grenada

Sweet Dreams
Roz Preston /Ed Phillips
Mon 5 Dec 2022 22:03

Once again I find myself apologising for the long delay between messages. This time my excuse is simple. We made it! And since then my feet have barely touched the ground.

Now that I'm back on terra firma I have decent WiFi so pics will follow, but first of all just to say that the final couple of days were increasingly interesting from a weather point of view, with huge rain squalls chasing us across the final couple of hundred miles, drenching us to the skin time and again. On Friday morning Grenada emerged from thick clouds on the horizon as the sky darkened yet again behind us. I had to pinch myself to believe that we had made landfall in the Caribbean, not taken a wrong turn and ended up in the Firth of Clyde with Arran making an occasional appearance out of a grey sea between squalls. There are remarkable similarities! Only the fact that we were too hot in our shorts and T-shirts convinced me that we had actually made it across the Atlantic.

It was so strange to come close to land again. For the last 2000 miles the depth had simply not registered, but we knew that there was in excess of 5000 metres of water below the keel. Now, suddenly, we saw 50, 40, 30 metres on the screen, and then alarmingly as we inched round the south western point of Grenada in light, capricious airs, 6,4 and 2.5😳. It was surreal. Running aground would have been an ignominious end to our adventure, but thankfully I managed to avoid that.

Grenada looked beautiful from the sea, high hills clad in lush greenery, with gorgeous brightly painted villas wrapped around with shady verandas nestling in colourful gardens. Along the south coast there was a series of deep bays, bristling with masts. We identified Prickly Bay, where we will take SD later, but first, we had to cross the finish line.

It was impossible to make our course under twin headsails, so we had put the main up and were sailing under reefed main (squalls again) and Genoa. However as we rounded the corner to make our final approach to Port Louis Marina, the wind died to a few knots and the last few miles took a painfully long time and a couple of tacks before we slowly inched over what we identified as the finish line. We called our time in at 1300hours, 55minutes and 59 seconds, a whole day and a half sooner than we had expected to arrive. The strong breezes at the start had given us a big push forward. Sipi edged ahead of us in the final hours, so we slipped another place behind in our class, but we have nothing to be ashamed of.

It was great to arrive in the marina, where we were greeted by ARC + staff, the marina manager and local kids offering the first of many rum punches. There was a photographer taking our picture for the World Cruising Club website. There was a great carnival atmosphere and each new arrival was greeted with the same sense of celebration at having completed an Atlantic crossing.

The tales of each voyage have one similarity - almost every boat had some issue, torn sails, broken poles, snapped sheets, steering problems etc etc. I can't think of anyone who escaped without some damage. It's a big ocean, we crossed in rougher than normal conditions and that took its toll on boats and crew. Although I have not yet spoken to anyone who wouldn't do it all again. After a long rest, that is.

Since then the rum consumption has been impressive. And I have given more interviews to Cruising World and Caribbean Compass. I am on my way to being a minor international celeb!🤣🤣🤣

Last night unfortunately I realised that what started as a niggling pain in my side was getting worse and it occurred to me that I might have a kidney infection. Angus accompanied me on a midnight visit to a local hospital where the lovely doctor confirmed my self diagnosis. I was given a dose of intravenous antibiotics and a prescription for a further five day course.

This morning I took stock - the boat is not at its most comfortable with 4 of us on board, constantly drenched in rain storms of truly biblical proportions. My berth took a soaking yesterday and only half of it is useable. So I have decamped to a cottage apartment in a lovely resort hotel in Secret Harbour for a few days R&R to let the drugs do their work. After two weeks in a rough ocean, it feels pretty blissful to lie in a dry bed that isn't trying to chuck me on the floor. There is a lovely restaurant, a pool, a spa and a hairdressers…Ed and the others will bring the boat round and we will meet up on Wednesday in time for Thursday's final social event, the ARC + prize giving.

We know we aren't going to win any prizes for speed. However, at the bottom of the finish declaration form there was a section asking for votes for the most beautiful boat to participate in the rally. A lot of people have told us they voted for us! I would be so thrilled if we win that one, not just for me, but for John, who was so rightly proud of our beautiful Sweet Dreams. Watch this space……..

Sweet Dreams out
(Not listening out on channel 72 and 16. Watching telly in a posh hotel)

Some images from the crossing….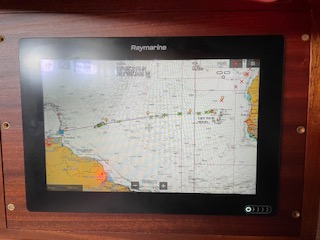 Video.MOV
Description: QuickTime movie


Crossing
Sent from my iPad
---