Au Revoir Fort Pierce - The Great Escape N26 46 W80 03

Sueedale
Fri 2 Nov 2018 22:36
Au Revoir Fort Pierce – the Great Escape N26 46 W80 03
Three and a half years in Crackerboy Boatyard and a year in Harbortown Marina now, finally, the great escape – the beginning of our Caribbean Adventure - destination Grenada in the Lesser Antilles.
Following what seems forever planning we were finally on our way and left our slip at 0730hrs on 1st November 2018. Following a previous aborted attempt to sail down to Miami against prevailing wind and tide we decided the most prudent option to get to Fort Lauderdale (our hopping off point for the Bahamas) was to follow the magenta line and motor down the Atlantic Intra-coastal Waterway (AICW).
Leaving Harbortown Marina
The Intracoastal Waterway is a fairly straight chain of interconnecting channels of water that provide an inland passage which stretches from Chesapeake in the north and terminates in the Florida Keys in the South. The channel is very well marked with buoys and navigational markers although we found that they were not necessarily sequential. ICW aids to navigation show yellow markings of either a SQUARE or TRIANGLE as well as the usual IALA buoyage system. Going South SQUARES are always kept to PORT and TRIANGLES always to STARBOARD. However, From Fort Pierce going South the channel was marked with square green markers with uneven numbers which were kept to PORT and red triangular markers with even numbers which have to be left to STARBOARD. (European sailors need to remember that the USA uses IALA B buoyage so RED RIGHT).
There are also statutory markers which count down from mile 0.0 at Chesapeake and stretch 1,243.8 SM (1,080.8 NM) South to Key West Florida mm 1243.8. Fort Pierce is at ICW mm 965.
A beautiful sunrise – Haigri making way towards Fort Pierce Bridge
Neither Peter, Chris or I are used to cruising on inland waters so we researched the trip as much as we were able. Our main concern was the depth of water as Haigri draws 1.8m (5.9ft) and the ICW has a Federal project depth of 10ft from Ft Pierce to Miami but only 7ft from Miami south and west to Key West. As with any navigational chart depths are only accurate at the time of survey and channels can meander quite a lot so depths may be more or less than charted. We also found the channel to be quite narrow at times so less room for manoeuvre. When we were motoring down the ICW we treated it as a blind navigation exercise in that if the depth dropped rapidly we turned 10 degrees East or West until back in deeper water.
Indian River dolphins saying goodbye to Haigri
The AICW was a whole new experience for us and we looked forward to navigating the four fixed bridges, three bascule bridges (bridges which you phone on VHF Ch9 and request an opening when you arrive) and four restricted bridges (bridges which open at specific times but which you also have to call to advise you are waiting for an opening) on our way to Lake Worth.
Hobe Sound Bascule bridge opening on demand for us
Chris at the helm motoring down through the mangroves
We made good time and went under Fort Pierce Bridge at 0740hrs and arrived at Hobe Sound Bascule Bridge at 1325hrs. After that progress slowed a little as we navigated the various bridges
One of the beautiful mansions that line the waterway with their own docks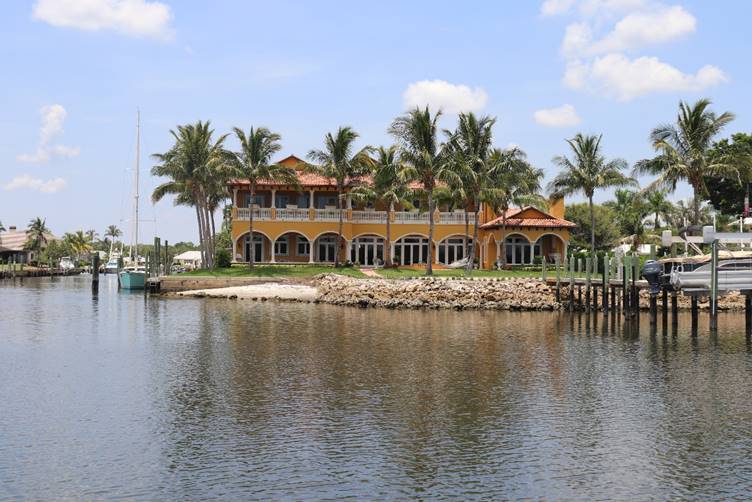 The AICW is a little akin to a roadway for boats. A beautiful house on the waterfront
We enjoyed our waterborne road trip, seeing the mangroves reminiscent of scenes from The African Queen, the beautiful mansions on the waterways, large motor yachts passing close by and the novelty of all the bridges. We finally negotiated Blue Heron Bridge and arrived at Riviera Beach Marina at 1845hrs – an 11 ¼ hr journey!
---