A Final Frenzy of Preparation 24.46N 80.32W

Sueedale
Fri 2 Nov 2018 15:22
A Final Frenzy of Preparation
Today is Halloween and hopefully our last day in Fort Pierce before we leave for Riviera Beach Marina near Lake Worth.  The boat is generally ready but, as always, there are a number of last minute preparations to make.  First of these was to check out of the United States.  On arrival we had to report to Homeland Security who retain the boat registration papers.  For boats in Harbortown Marina Homeland Security is based in Fort Pierce International Airport which is a 15 minute drive away.  Fortunately, we had a hire car and drove there arriving promptly at 10am when the office opened.  We completed formalities and retrieved our registration papers.  Although we all had B1/B2 visas we were concerned that there would be no record of our individual departures from the USA.  DHS advised that we had to ensure that our passports were stamped when we arrived in our next destination port, for us the Bahamas, as this would provide a paper trail of our exit from America.
Second task of the day – final provisioning.  We didn't have the greatest satnav in our hire car and managed to miss Wal-Mart so this entailed a four mile detour in order to circle back on ourselves.  Wal-Mart is a huge store compared to anything in the Channel Islands and stocks just about everything from groceries through to guns. We were able to buy all we needed but skipped on the firearms.  We also dropped into West Marine, to be greeted by a staff member in a great Halloween costume, where we purchased a guide to the Turks and Caicos Islands.
Back to the boat just in time to take her back to Crackerboy Boatyard for a final haul out and jetwash.  The prop which we had specially manufactured for Haigri and put on in May was already covered in barnacles and needed sanding to remove them.  Thirty five minutes and $300 later she was put back in the water and after a quick swerve to avoid a cruising manatee she was refuelled.
The hire car then needed returning to Enterprise in North Fort Pierce which also allowed Peter to visit the Smoke Store and buy a couple of cigars for the onward journey.  By this time we were all hot and tired but the sun was going down so a bit chilly for a swim in Harbortown Marina's cute pool so showers sufficed!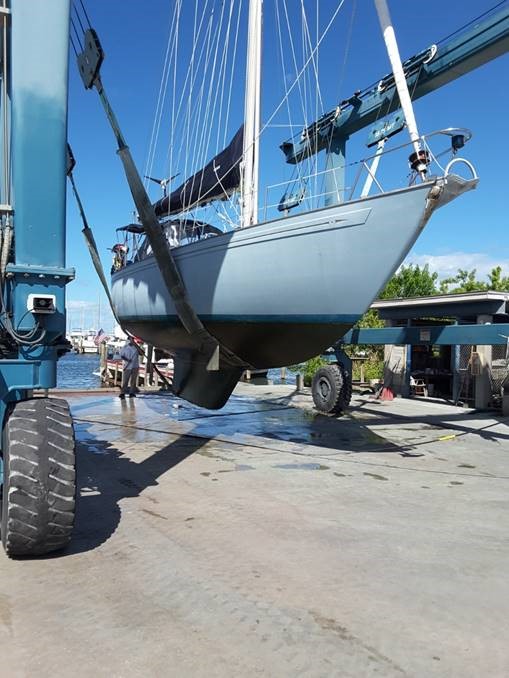 During our stay in Harbortown we have spent many a pleasant evening at the Water's Edge Restaurant which is in the marina complex.  As this was our final evening Peter took us all for a lovely dinner – opposite a diner dressed in a rather fetching bumblebee costume!  A couple of glasses of chilled Sauvignon Blanc, Mahi Mahi with rice and black beans completed a relaxed evening with everyone looking forward to the journey ahead.
Sent from Mail for Windows 10
---