Blog entry 3. Last locks – and the Pacific

RaLa
Ian Redwood & Laura Brown
Tue 22 Feb 2022 00:51
08:58.045N 079:34.649W. Blog entry 3. Last locks – and the Pacific
Overnight we all slept well. Our line handlers chose to sleep on deck, we loaned them sleeping bags and a blanket. Our night's sleep uninterrupted except for the odd shower. I asked 'are you sure you guys are ok? – We have room for you below decks.' 'Yes Captain', came the lead handler's reply 'we want to sleep up in the fresh air'. Note to self: shower more frequently when guests come aboard.
An early morning start began with bacon and eggs on toast, and a steaming mug of Colombian coffee. The arrival of our new advisor Moses, a biblical omen perhaps. He stepped aboard with the same balletic poise of his predecessor. 'Good morning, let's get going Captain, I want to make the second locks at 1130'. So we slipped our huge buoy and headed off to join the canal buoyed passage. Cleo and Song of the Sea were hot on our tail. We were averaging about 6-7 knots along the waterway.
The islands around us were truly spectacular. Moses explained that they were actually hill tops above the flooded valley of the lake. Beautiful greenery – each island unoccupied except for trees. Birds flew overhead, howler monkeys occasionally boomed out their eerie calls and crocodiles lurked hidden from view amongst the quieter areas.
We passed many huge ships some moored to large buoys like the ones we had been on. The canal authority has an air traffic control type station that regulates all movement in a well organised and highly efficient way. Our advisor had a print out of every ship's movement, all planned like a dance of moving giants.
It was an easy but memorable passage. It felt strange to think we had the huge continents of North America to our starboard and South America to our port as we crossed this narrow isthmus. We had occasional tropical rain showers which only lasted 5 minutes but reduced visibility to a few metres, contrasted with intense tropical sunshine. We passed the occasional fishing boat and witnessed one rod bending and saw a huge fish landed. As we entered the narrow stretch before the last locks we saw a lazy crocodile asleep on a beach – it was about 10' long – a tiddler according to our line handlers!
The only buildings and occasional docks we passed were all canal authority property. The evidence of this immense civil engineering project becoming more apparent in the sculpting of the hillsides and the huge beams of steel and swathes of concrete adjacent to the canal borders.
We were counting to the final locks down. We'd learned our lessons with rafting up, and repeated the day before's successful procedure without a hitch. Good drills. This time the wind and current were pushing us forward into the locks and competent steering and speed control became a critical requirement. Whilst we were approaching the locks Laura was being told by the lead line handler tales of rafted yachts spinning out of control in the chambers. This was not to be for us. We arrived in good order at the lock where the visitor centre looks down upon us from a high viewing gallery. A sizeable crowd were there.
Our excitement became palpable as the final lock approached. We could see the water the other side below the gates – we were looking down at the Pacific. How did it feel? Well it's hard to describe. Suffice to say, that I found a log entry from 3 years ago in which Laura had written 'been reading about journey's in the Pacific, I really cannot wait'.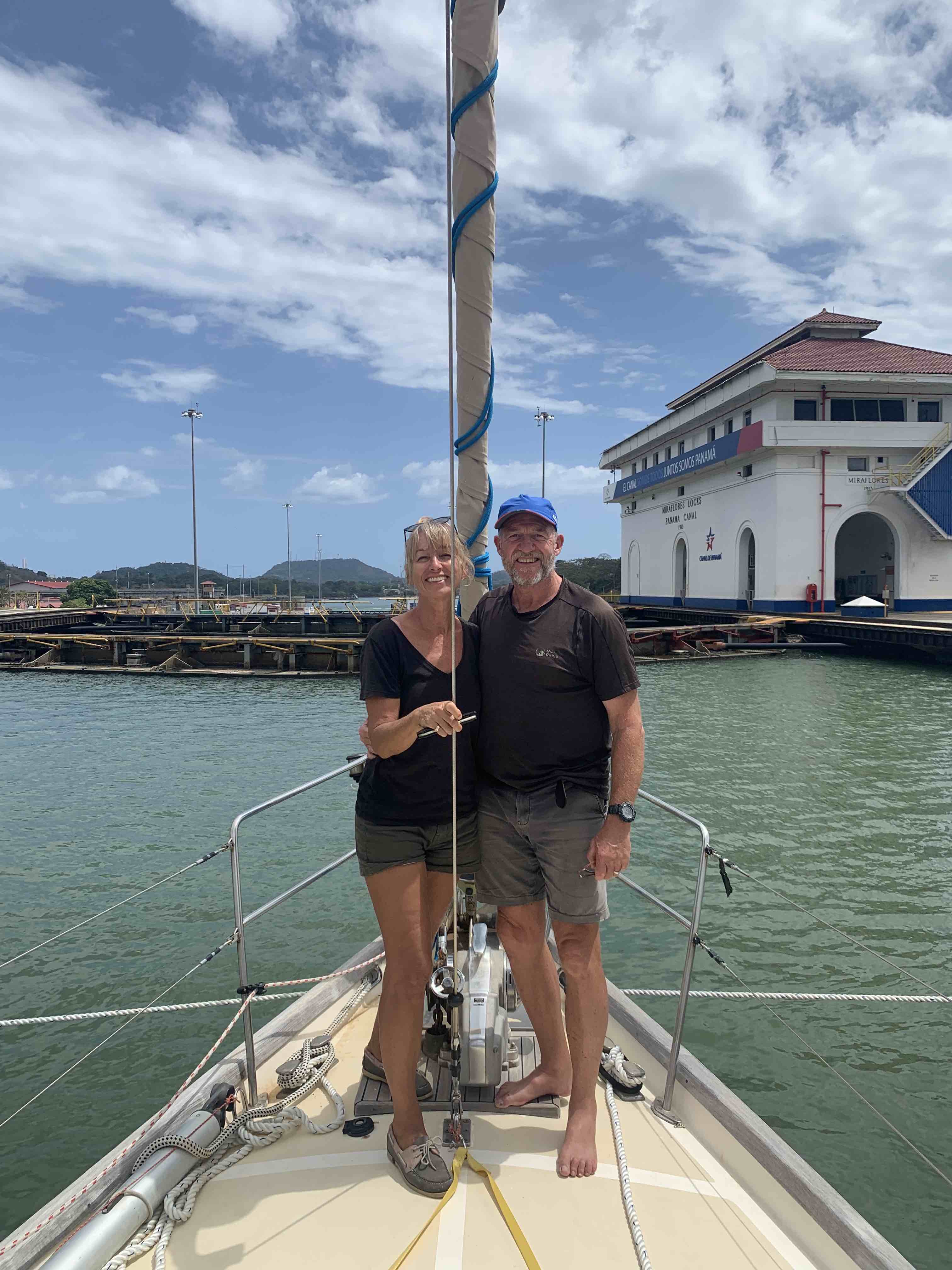 We split from Cleo and Song of The Sea, without incident. We felt like we completed our crossing in style. We passed under the Bridge of the America's – gateway to the Pacific and the approach to the canal from the opposite direction. The advisor left after radioing his pick up launch. After the last line handler disembarked, Thor told us that his senior line handler had said 'that's one of the best canal transits I've done, no incidents and pretty quick'.
We waved our goodbyes and dropped anchor in Flamenco Bay – just the two of us – pleased to have our home back to ourselves. We are now looking at the high rise showpieces of Panama. Where billboards and digital screens are projected on the top of the glass and steel structures, like giant jenga pieces. Gotta say – I think we prefer the jungle and cannot wait for the next part of the journey.
---