37:16.1N 36:49.4W Caption competition: return of the guest editor!

Apollonia
Anthony Auger / Nico Philip
Thu 17 May 2012 14:27
37:16.1N 36:49.4W
Bearing 080, speed 7.2 knots, distance to go 396 nautical miles, wind NE 18 knots, pressure 1022 steady, morale steady, fresh fish high, fresh food low (lemons, limes, white onions, red onions, mini carrots and a cabbage), Heineken low and falling.
To celebrate the rise in readership of the blog under the stewardship of Jamie David Cripps to at least 8 people, the guest editor has returned with a caption competition! See details below.
News from on board the cruise ship/trawler/occasional sailing yacht Apollonia
Sailing update - N/A
Communications update - we have been in touch via VHF with a catamaran who is also heading for Horta. Whoever gets there last buys the beers. We also had a chat with a Chinese chap on a passing ship: initially he responded to our friendly questions by repeatedly asking whether we wanted him to change course - we didn't. He didn't want to answer where he had come from. 20 minutes later, we suspect having found his English phrasebook, he came back on the radio in a more friendly mood - asking us whether we were on "ho-ee-day" - when we responded saying we were on an adventure, he said something about the french president. Language barrier.
Autohelm failure almost resulted in us having to steer the boat by hand
Yesterday the mercurial 6th member of our crew, Artem the Autohelm, made a bid for freedom, perhaps understandably, given he has spent the last 12 days locked in the lazarette.
Error message "MOT stall". Diagnosis: the bolts attaching the hydraulic arm had sheared and the motor had failed.
Needless to say, the prospect of having to hand steer the next 450 miles and enforce a 24 hour watch system was incentive enough to attempt a repair at sea!
Nico, as always, came to the repair rescue - managing to re-bolt the arm and replace the motor with a spare. Given that we could only purchase one spare bolt when we refitted the unit in St Maarten, I have no idea what it's now held on with! Incredibly, Brett managed to steer the boat straight, despite having to have the wheel locked off for the duration.
The repair was successful - PROST!
Chronic duvet shortage
As we approach 38N, the temperature at night has plunged (I cannot quantify this in celsius, but I have gone from sleeping comfortably under a sheet to my attire last night of: t-shirt, thermal roll neck, boxer shorts, thermal trousers, ski socks, fleece gilet, fleece beanie and another fleece acting, terribly, as a 'duvet').
So far, we have found only two duvets, both in Cripps' cabin! Goodie-two-shoes vigorously denies that they were both on his bed; however, there are no eyewitnesses to verify this 'fact'. Anyway, goodie-two-shoes says he's been sleeping well.
CAPTION COMPETITION
I have attached a photo which I suspect is in the fast lane to someone else's 'lonely hearts' ad.
Please complete the following caption:
"Hello my name is Jamie David Cripps and I like…"
Answers to the email address please. Winners to be announced tomorrow.
Love from all the boys on board the ship x x x x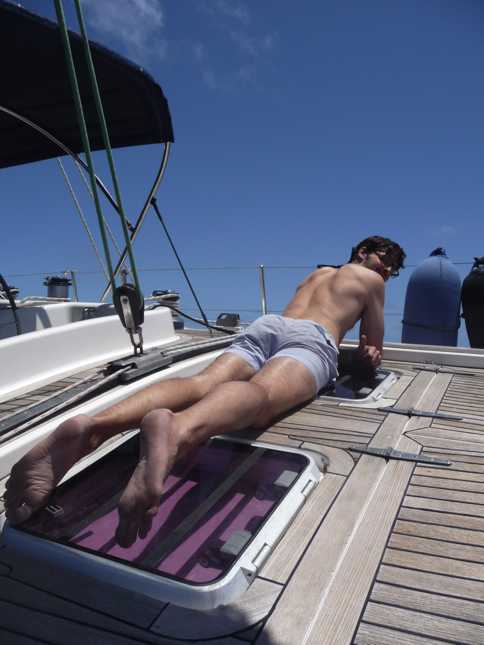 ---