Rachel's Maiden Biscay Crossing

Rachel of London
Andi Healey (Skipper)
Thu 14 Apr 2011 16:11
42:07.320N 008:50.833W

We left Hamble at 1330 on Friday 8th April. Well, Tony, Andi and Paul did.
We had to go back for Mike and Adam, our tardy crew! They settled in well,
apart from Adam who kept looking around for the sauna.

We had a great run out of The Solent (over 30 miles in the first 3 hours!)
and April 8th ended with a large pod of dolphins playing off the bow at the
midnight watch change. There had been much arguing over whether the watch of
Tony , Adam and Paul were the "A Team" or whether it was Andi and Mike. Tony
won. (More of this later!)

Saturday started with the cruising chute up and bacon sandwiches cooked b
our fair captain. Rachel continued to impress, logging 202.2 miles in our
first 24 hour period. Only the second time in all my time as a salty old sea
dog that I've broken the 200 mile mark.

Just after we flew round Ushant in the night disaster struck. The Autohelm
broke down (on the "A Team's" watch). Much pressing of buttons, scratching
of heads and reading of instruction manuals (how girly!!) later, and it's
still broke.

Mike just pipped Adam to the post to win the Premier Puker award. We are now
also putting him up for Slimmer of the Year (or putting him down, not sure
yet!) Mike is also concerned that the new Speedo's he bought for Vilamoura
may not fit quite as snugly on his pert bottom (his words, not mine)

Haven't worked out yet how to post pictures with captions underneath so the
following pics are:

1. The Needles (obviously!)
2. Tony and Mike enjoy some bonding.
3. Arty sunset pic reflecting off the boom.
4. Andi looking for wind.
5. Yumm!!
6. Paul's not so sure.
7. That's more like it!
8. Tony enjoying life.
9. Adam and Mike enjoying each other!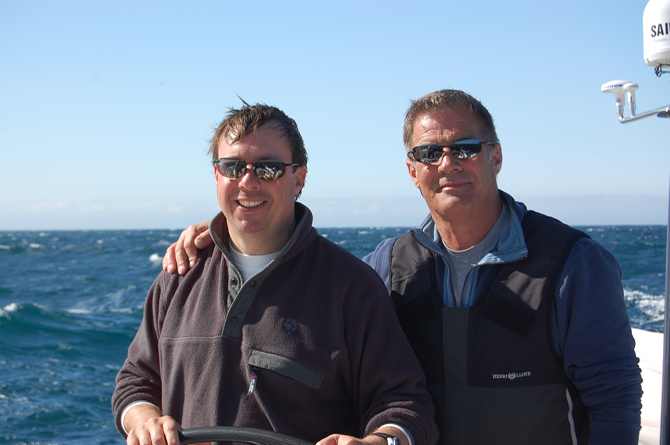 ---