The Rally Begins!

Griselda
Nicola
Sat 5 Nov 2022 17:00
So, as we sit here still in Las Palmas with less than 24 hours to go till the start having completed two days of seminars covering all aspects of safety, provisioning, navigation, and stargazing! The following day (Thursday) included an impressive helicopter rescue demonstration just off the marina wall and a sea survival session in the pool for those not familiar with climbing into life-rafts (usually only experienced as part of an RYA training course).
We seem to have done all our prep, haven't found anything tragically wrong with Griselda, and starting to recover from the past week of parties and general socialising along the pontoons. Our final delivery of provisions arrived this morning and all available space in the galley cupboards has now been filled with every snack, meal and treat that we will require (and desire) for the crossings. Our dressed overall flags will need to come down, however, the requirement to fly these has added to the excitement within the marina ahead of the start.
Griselda 'dressed overall'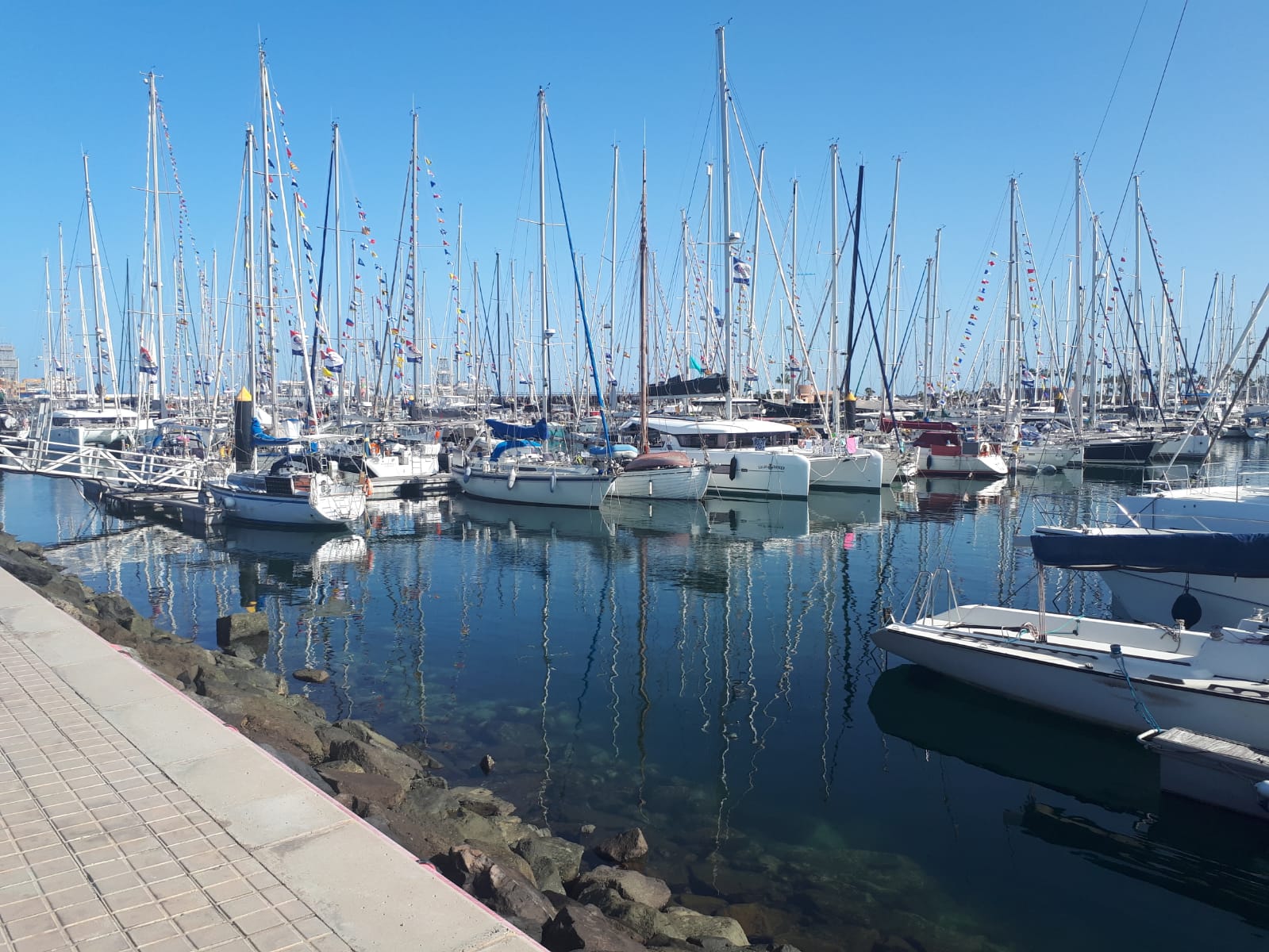 The ARC+ fleet – some boats dressed up….
Check-out with customs and with the rally organisers has been completed, and the 'Yellow Brick' (YB) trackers have been dished out and have gone live, which allows you to follow our progress.
The tracker can be viewed at:
https://www.worldcruising.com/arc_plus/eventfleetviewer.aspx
or on the App 'YB Races' from the apple / android app stores.
We also have our handicap - 0.931 – the factor they will multiply our elapsed time by to get a corrected finishing position. We keep telling ourselves we don't care about speed and time, but who knows if or when the red mist will descend?! There are some surprising other boats with very similar handicaps – a Moody 46 for example!? Maybe we have been too 'thorough' with our sailplan declarations… With just one mono-hull yacht smaller than us, we're expecting to be trailing the fleet!
We are uncertain of the duration of our first leg as it will be wind permitting – and the forecast is for light breezes… however anyone arriving after 17:00 hours on Sunday 13th will be deemed outside of the time window to count as a finisher. We typically plan on 5 kts for Griselda (although we frequently do better) and with 856 nautical miles to cover as the crow flies, we will be needing fair wind and tides in our favour to comfortably finish in this window. The restart for leg 2 will be the 18th of November – ideally, we will arrive in good time to enjoy a few days in Cape Verde, recovering and provisioning for the next leg before we depart again!
The skippers briefing was at midday for final instructions, so just the start line to negotiate tomorrow morning, where our tactic will be to keep out of the way of everyone that's 'in it to win it'!
We may get a chance to update the blog at sea, but if not, we'll catch up from Mindelo.
Cheers for now
Griselda
---