Atlantic adventures resumed

Griselda
Nicola
Wed 12 Oct 2022 11:23
27:44.81N 15:37.13W
 
Having originally planned to cross the Atlantic in November 2020, and suffered delays due to Covid, injury and Gerry's appendix removal, it's finally looking like this is the year! We arrived back in Lanzarote on September 25th ready to resume our Atlantic adventure.

The boat yard at Rubicon Marina had made an excellent job with our routine maintenance and a couple of non routine fixes. On doing a short sail in July, we'd had an alarm sounding and the Sail drive warning light on. For the non sailors reading this, the bit underwater that the propeller attaches to. Having got Griselda safely back into the marina, the boat yard found the sealing plate to the bottom of the boat to have worn and the seal leaking, allowing water into the engine bay. Always good to catch before heading across an ocean.

Having done a few jobs we had a test sail, returning back to port and happy everything is in fine working order.

On October 5th we had the most awesome sail, finally leaving Rubicon marina where Griselda has spent 13 months. With her recent scrub and anti-fouling, our boat speed was very respectable. We sailed Griselda to the south of Fuerteventura, staying at a small fishing town called Gran Tarajal, enjoying a relaxing few days ahead of crossing to Gran Canaria.




Obtaining gas bottles for the cooker is becoming harder and we don't have a microwave on board due to the battery power it would use. Fortunately and like most boats we do carry a spare bottle, both bottles kept in self-contained gas lockers. The highlight of stopping off in Gran Tarajal has been finding a compatible exchange camping gaz bottle in a hardware store. We approached fitting our new exchange bottle and turning on the gas with some trepidation, as all the usual logos, codes and warnings had been painted over. The bottle looked very smart with it's coat of dark blue paint but the usual light blue complete with all the usage information and warnings, regardless of how rusty the gas bottle may be, would have been far more reassuring. Happily the bottle fitted and worked fine - it will be interesting to see if it's accepted for an exchange when it's time to swap it over.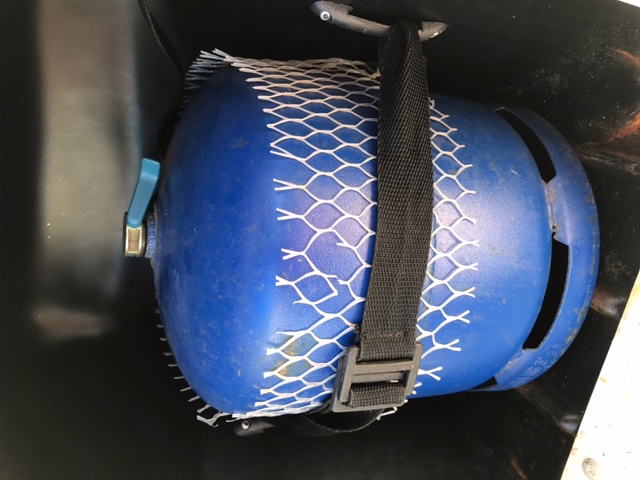 When it comes to 'can we cook whilst on the boat'?, the most mundane subjects become far more important, hence the excitement with our gas bottle find.

Another post due shortly and promise not a mention of gas bottles!
---