on the way to LP 5

Fenix II ARC
Liz/Steve Rakoczy
Wed 10 Nov 2010 13:51
7/11/2010        Distance: 14 NM       "29:12N 13.30W"                 
After a reasonable overnight sailing we had Graciolas in our sight by sunrise. It was strange to see the perfect volcanic mountain in the middle of the island. We lowered the spinnaker around 3 miles away from the strait that run between Graciolas the Lanzarote . We were surrounded by strange rock formations, huge mountains lacking any vegetation. We did not mind it too much as the Pilot book was firm about the presence of a fuel station. And we were by now very low on fuel. The pilot book promised very friendly reception but when we approached the quay the town's policeman whistled and ordered us out. This was not that friendly, was it?
After anchoring and cleaning up ourselves for the visit we launched the dinghy and headed to town. We had breakfast at a water side café and decided to tour the place. The location was spectacular, the sea balmy so obviously someone came up with the bright idea of developing a resort. The concept was to forget about high-rises but build two max. 3 story houses tucked together like an Arabic village in the desert. They were quite cute, all painted white with blue window frames and doors. There were streets, playgrounds, a church, public gardens etc. everything was there but people. It was all speculative investment and everyone was hoping that there will be hoards of tourists and the prices will double within a year. Unfortunately for all those investors the prices collapsed as the development failed and everything came to a standstill. What were spectacularly missing were shops and sealed roads. Because of this or some other reason the place had a sort of Wild West feel. In the light of all this it mystified us why they turn away sailing boats heading towards their port and why the café shop owner was so unfriendly.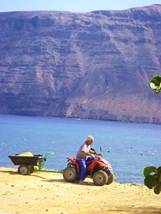 Dinner in Graciosa was at the restaurant. The one and only restaurant! We arrived by dinghy in the dark, tied up at the jetty and settled in for a meal. It was with some trepidation that we all ordered seafood from the menu. The logic behind this choice being based on the fact that we are on a small island with no livestock! We figured that seafood is a safer bet. After a less-than-satisfactory experience with seafood platters in Gibraltar we nervously waited for our meals to arrive. The 'mixed' seafood consisted of lightly grilled octopus, crispy battered squid, fresh king prawns, green-lip mussels and, a new experience for us, "Welks".  To our great surprise, the meals were exceptionally good and well priced. We were particularly keen on the tiny gourmet potatos baked in the oven until their skin became lightly crispy. They were served with some mint and capsicum dips as condiments to further enhance our seafood delight. It was a fantastic meal and the return Journey to Fenix by dinghy in the dark was made much more enjoyable with satisfied bellies.  
---